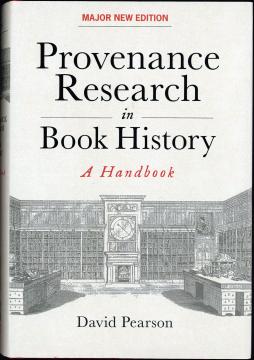 Description

New Castle, DE and Oxford, England: Oak Knoll Press and The Bodleian Library, 2019 232x151 mm. xi, 436. Ill. Hardcover, dust jacket.

language

English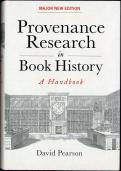 Provenance Research in Book History
A Handbook
David Pearson
Co-published with The Bodleian Library, this thoroughly revised edition includes a new introductory section containing additional references to update the original text.
Since this handbook was first published in 1994, interest in the book as a material object, and in the ways in which books have been owned, read and used, has burgeoned. Now established as a standard reference work, this book has been revised and expanded with a new set of over 200 color illustrations, updated bibliographies and extended international coverage of libraries and online resources.
It covers the history and understanding of inscriptions, bookplates, ink and binding stamps, mottoes and heraldry, and describes how to identify owners and track down books from particular collections via library and sale catalogues. Each section features an evaluated bibliography listing further sources, both online and in print. Illustrated examples of the many kinds of ownership evidence which can be found in books are also shown throughout. Relevant to anyone seeking to identify previous owners of books, or trace private libraries, this title will also support the work of all book historians interested in the history of reading or the use of books and in the book as a material object. An essential handbook for anyone working in provenance research.