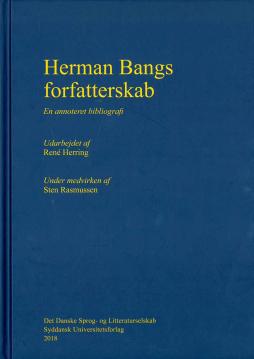 Description

Det Danske Sprog- og Litteraturselskab Syddansk Universitetsforlag, 2018 Size: 239x168 mm. Hardcover. 937 pages.

language

Danish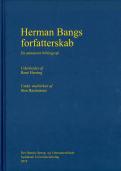 Herman Bangs forfatterskab
En annoteret bibliografi
Herring, Renè – Rasmussen, Sten
The publication of "Herman Bang's authorship. An annotated bibliography" is promoted by the Danish Language and Literature Society (DSL) and by the University of Southern Denmark.
The bibliography covers 34 years of Bang's literary activity, during which he alternated prose and lyric, drama and journalism. As a journalist Bang made his debut in the "Berlingske Tidende" in 1877 and wrote his last article in 1912 during a trip that should have brought him around the world but stopped abruptly in Utah, USA, where he was hit by brain hemorrhage.
The book opens with a preface by professor Sten Rasmussen. Each entry is presented with detailed bibliographic information. Extremely useful are the six final indexes which allow to easily search through Bang's prose, lyric, drama and journalism writings, works he mentioned or dealt with, publications he contributed to, as well as persons, places, subjects, etc. relating to his life and work.