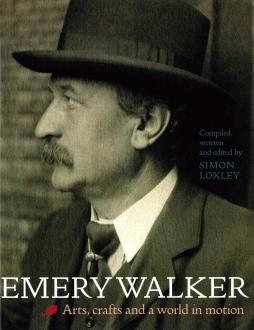 Description

New Castle, Delaware: Oak Knoll Press, 2019 235x175 mm. xvi, 200 pp. Ill. Hardcover, dust jacket.

language

English
Emery Walker
Arts, Crafts, and a World in Motion
Simon Loxley
This book is an attempt to give a comprehensive sense of Emery Walker as a person, along with his career and achievements, in part through correspondence with important people in his life. The letters are accompanied by brief biographies of the correspondents and essays that examine some of the key stages and achievements of Walker's career.
Walker was a key figure in the world of design, typography and printing, in the teaching and dissemination of those crafts, and in the cultural landscape of late nineteenth and early twentieth century Britain. But the effects of his contributions also spread to the United States and mainland Europe, and the ripple of their influence helped determine the design ethos of the twentieth century and beyond. He was called the "Universal Samaritan," his help and advice likened to a vital amenity like water, and free of charge.
Interwoven with these is a selection of 143 letters spanning 60 years, most never previously published, that gives us a picture of Walker the man in both his professional and personal life. He seemed to "know everyone," and short biographies of the principal correspondents help contextualize the letters. The result is a fascinating picture of Emery Walker, his family and friends, the people he knew and the times he lived in: times of aesthetic vision, social revolution dreamed and actual, and world war, culminating in a symbolic, poignant valediction to Arts and Crafts as the shadow of another conflict loomed. The texts are accompanied by over 140 images, many of them, once again, never before published.