Description

Hildesheim: Olms, 2021 210x145 mm. 713 pp. Hardcover. Series: Bibliographien zur Klassischen Philologie, 4.

language

English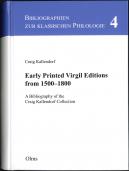 Early Printed Virgil Editions from 1500–1800.
A Bibliography of the Craig Kallendorf Collection
Craig Kallendorf
This bibliography provides a catalogue of some 1,135 early printed editions and a half dozen manuscripts that contain the works of the Roman poet Virgil and related material. Included here are approximately one-third of all the known editions, which constitutes the largest such collection in private hands anywhere in the world. This collection contains more Virgil editions than all but a handful of the largest public libraries, which have not described their holdings in any detail. Full bibliographical descriptions are provided for two-thirds of the books recorded here, with a short-title entry for the remainder that directs the reader to a full description that has been published elsewhere. The bibliography offers the material with which the reception of Rome's greatest and most influential poet can be traced precisely, which will make it of interest to classicists, intellectual historians of the early modern period, and specialists in book history.