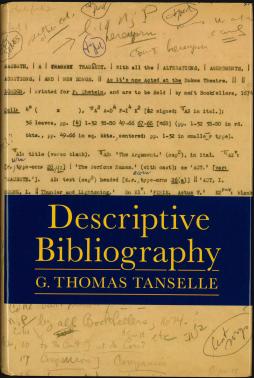 Description

Charlottesville, Bibliographical Society of the University of Virginia, 2020 233x152 mm. XII, 609 pp. Hardcover with dust jacket. Appendix: [523]-550 pp. Wrappers.

language

English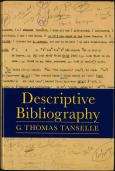 Descriptive Bibliography and A Sample Bibliographical Description
G. Thomas Tanselle
G. Thomas Tanselle's Descriptive Bibliography offers a comprehensive guide to the activity of describing books as physical objects. Through bibliographical investigation we observe the materials and analyze the skills employed by printers in their daily activities. We learn something of the publishing contexts from the design elements in books. Every physical detail of a book contributes to our understanding of how its text came to be what it is. Descriptive Bibliography is not just a guide to the identification of first editions (though it serves that purpose) but is rather a history of the production and publication of the books taken up and thus a major contribution to the broader annals of printing, publishing, textual criticism, and human history and culture.
The first part of this book contains five essays on general topics, including an introduction to the field and its history, its relation to library cataloging, and a rethinking of the meanings of ideal copy, issue, and state. The second part covers more specific subjects: transcription and collation, format, paper, typography and layout, typesetting and presswork, non-letterpress material, publishers' bindings, and overall arrangement.
The useful appendix of this volume has been reprinted as A Sample Bibliographical Description with Commentary. This pamphlet is a convenient guide for students of descriptive bibliography and for those who write and read descriptive bibliographies. It contains definitions of basic terms, examples of descriptive paragraphs, an extended sample description, and a detailed commentary that offers practical advice and the rationale for each element of the account. Frequent cross-references to Descriptive Bibliography identify fuller discussions of points in the sample description.