News & Updates
New Young Book Collectors Prize in the Netherlands
Aron Ouwerkerk (25) and Floor Jongenelen (12) win the Prize for Young Book Collectors in the Netherlands.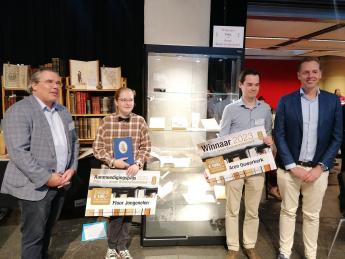 On Friday 13 October 2024 during the Amsterdam Antiquarian Book Fair, a brand new prize was awarded: the Prize for Young Book Collectors (up to 35 years of age). The prize is an initiative of the Nederlandsche Vereeniging van Antiquaren (NVvA) and consists of a cheque for €1,000, to be spent at the book fair in Amsterdam.
The Young Book Collectors' Prize 2023 was won by Aron Ouwerkerk (25) for his collection of books by and about early modern female authors.
Floor Jongenelen (12) impressed the jury with her collection of old and new children's books and won an additional prize.

Anyone who thought that young people no longer have anything to do with books is wrong. When NVvA announced a prize for young book collectors, it quickly attracted a number of entries. Participants aged from 7 to 35 turned out to put together very diverse collections: signed biographies, Polish books, prize tapes and classic literature, books around the theme of LGBTQ+, books on native Americans, Bible exegesis, or early twentieth-century graphic design and Japan.
Because of the quality of the entries, the jury - consisting of Laurens Hesselink, President of NVvA, Marieke van Delft, Chair of the Stichting Vrienden Museum Meermanno (House of Books) and Alex Alsemgeest, curator of library collections of the Rijksmuseum - decided to award two prizes. The prize is aimed at connecting young book collectors and introducing them further to the the world of collectors.
The winners received a cheque to spend at the book fair and they are now also allowed to attend activities of the Dutch Society of Bibliophiles. A year-long programme awaits the prize winners, with meetings at Huis van het Boek, the world's oldest book museum, and the Rijksmuseum, among others.
Aron Ouwerkerk
The jury decided to award the Young Book Collectors' Prize 2023 to classicist Aron Ouwerkerk. His clearly defined collection consists of seventeenth, eighteenth and nineteenth-century books by women authors, supplemented by a reference collection.
Starting from the reference work "With and without a laurel wreath - Writing women from the early modern period 1500-1850", Aron has collected works by and about female authors. His collection is consistent and thoughtful. He owns for example, a work by Anna Maria van Schurman, the first woman in the Netherlands to attend lectures at university.
Floor Jongenelen
The 2023 incentive prize went to 12-year-old Floor Jongenelen for her collection of children's and youth books, with books by Roald Dahl in particular. In describing her collection, Floor shows very clearly how a collection starts. For instance, you may enjoy reading, but the collector - which is Floor - then buys an Italian edition of Matilda. She also started collecting children's books after receiving some children's books from her grandmother. At the Tilburg book market, she has already been able to expand her collection considerably. And she can also include her own work in her collection, as at the age of eight she published her first book of her own!
It is often written that children and young people read less. But these young book collectors show that for some young people, books are well alive.