News & Updates
IAN FLEMING: THE BIBLIOGRAPHY - Late October launch announced by Adrian Harrington Ltd. and Queen Anne Press
A comprehensive 750-page guide to the work of Ian Fleming, one of the 20th century's greatest thriller writers and creator of the world's most famous spy, Special Agent 007. Covering everything from the first draft of "Casino Royale" in 1952 to editions still in print today, "Ian Fleming: The Bibliography" is not only an indispensable source of information for collectors, enthusiasts, libraries and booksellers alike, but an entertaining and informative volume that will appeal to anyone interested in the James Bond phenomenon.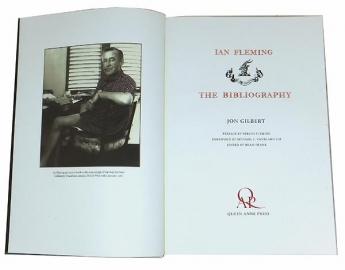 The guide will be published in late October 2012 by Queen Anne Press – the literary impress once managed by Ian Fleming. The launch will coincide with the 50th Anniversary of the "Dr No" film and the premiere of "Skyfall".

"Ian Fleming is best known as the creator of James Bond, an icon of 20th century popular culture", says author Jon Gilbert, "but he was also a journalist, publisher, travel writer, motor enthusiast, card player, accomplished golfer and noted bibliophile. Much has been written about Fleming and his legendary creation, but until now there has been no serious bibliographical account of his published work."

Jon Gilbert, who has worked for Adrian Harrington Ltd. since 1990, is the foremost internationally renowned expert on the works of Ian Fleming. His research took him to the Jonathan Cape Publishing archive, Eton College Library, the Pan Macmillan archive, Penguin Books Ltd., The Imperial War Museum's Fleming Exhibition, the British Library and the 'Bond Bound' display at The Fleming Collection, London. He has interviewed colleagues, friends and family of Ian Fleming and came across many interesting and little known details. The result is not just a collection of literary facts and figures, but a fascinating insight into the career of one of Britain's most famous authors who created one of the most fascinating literary figures of the 20th century.
Ian Fleming: The Bibliography covers every aspect of the author's writing, from the manuscript stage, through typescripts, uncorrected proofs, advance and review copies, first and subsequent impressions, paperback printings, omnibus and collected editions, as well as periodical appearances, comic strip adaptations, young reader and large print editions published in Britain and America. Apart from the fourteen Bond novels there are sections covering Fleming's non-fiction works "The Diamond Smugglers" and "Thrilling Cities", and his book for children "Chitty Chitty Bang Bang". Each entry in the Jon Gilbert's bibliography includes information on the conception, editorial process and marketing of the book, complemented by a full list of sources. Biographies of Fleming's closest confidants are provided, along with a detailed chronology of the author's life.

The work, which is much more than a bibliography, has been compiled with the approval of Ian Fleming's literary estate and the assistance of the Ian Fleming Foundation. It is greatly appreciated by the Fleming family:

"Queen Anne Press's first publication in its revived form was the complete works of Ian Fleming, 18 volumes in all including the 14 famous James Bond titles. We are delighted now
to publish Ian Fleming: The Bibliography, a magisterial work which includes more
than 1,000 illustrations and is a must for any Bond aficionado."

Kate Grimond (Ian Fleming's niece)

"The result of four years' intensive research, Jon's book is a welcome reminder of just how important Ian Fleming's works are and how deeply they have influenced so many people."

Fergus Fleming (Ian Fleming's nephew)

"Ian Fleming: The Bibliography" is available in two versions:

Standard: bound in cloth with gold blocking (Price: £175)

Deluxe: quarter-bound in vellum effect on black boards & gold blocking - inspired by Fleming's own design for a limited edition of On Her Majesty's Secret Service. (Limited to 250 numbered copies/ Price: £250)

It is available from Queen Anne Press and Adrian Harrington Ltd.