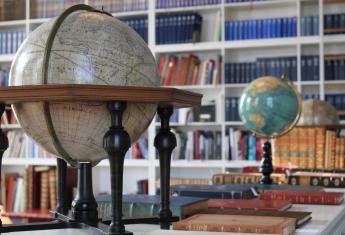 About ILAB

ILAB - A Global Network of over 1600 international rare booksellers


In 1947 representatives from five countries, Denmark, France, Great Britain, the Netherlands, and Sweden, met in Amsterdam to discuss the formation of an International League of Antiquarian Booksellers (ILAB), with the aim of establishing new hope for international peace through open markets, to foster friendship and understanding, and to counteract the animosity and suspicion engendered by World War II. The ILAB was formally incorporated in Copenhagen in September 1948, with associations from ten countries.
For more information on ILAB's history, please follow this link.


Today, the League's members are 22 national antiquarian booksellers' associations representing businesses in 38 countries and over 1600 individual affiliates. It strives to uphold and improve professional standards in the trade, to promote honourable conduct in business, and to contribute in various ways to a broader appreciation of the history and art of the book.
To search a bookseller, please use the BOOKSELLERS section on this website.



Since the advent of the Internet anyone with a computer and a few books can set up as a rare bookseller, and it is occasionally difficult to tell who is an expert, who is a casual hobbyist, and who is an Internet scammer but there are a few simple reasons how you can detect the quality of an ILAB bookseller:

High Standards – Individual bookseller members are admitted to their national organizations and to ILAB through a process of sponsorship, investigation, and the vote of their peers, after they have demonstrated expertise, excellence, and experience as rare booksellers.

Ethics and Consumer Protection – Have you ever bought something online and were dissatisfied with it? ILAB and its member nations maintain a detailed Codes of Usages and Customs, and individual booksellers are required to adhere to these.

Authenticity Guaranteed – The Code of Usages and Customs requires that books and related material are accurately and professionally described. The authenticity and genuineness of all books, manuscripts, autographs, maps, and related material must be guaranteed.

Book Fairs – ILAB and its member nations sponsor and produce the world's greatest book fairs and exhibitions of rare books for sale, currently in sixteen great cities like Paris, London, New York, Milan, Tokyo or Boston. A visit to an ILAB book fair is an education in the world of rare books, and the equivalent of a visit to a museum, with the difference that you can purchase the exhibits. All upcoming international ILAB Fairs & Events are listed here.

International Collegiality and Cooperation – Afraid to buy rare books from overseas dealers because you think you will have no recourse if you are unsatisfied? ILAB dealers are responsible to a world organization, and ILAB can help to foster communications and help to facilitate communications with overseas dealers. Everywhere in the world, you can buy the best books from ILAB booksellers with confidence.

Education – ILAB sponsors the ILAB Breslauer Prize for Bibliography that awards scholars for excellence in furthering the knowledge of rare books and their makers. Many members also lecture, teach, and participate in other educational programs that help to increase the resources for scholars and the general understanding of rare books. ILAB also runs an international Mentoring Programme; established booksellers offering their expertise to those new to the rare book trade. Please contact the ILAB Office if you wish to receive further information.

Appraisals and Consultation – Many ILAB dealers actively provide appraisals and consultation to private collectors and institutions alike, and have the expertise and experience to help you to organize, insure, and otherwise provide professional advice.

Rare Books for Sale Online – The ILAB website book search is the only database worldwide that is limited exclusively to professional, peer-evaluated rare booksellers. You can buy with confidence from a world of expert and ethical rare booksellers.


The ILAB Code of Usages and Customs
This compendium of the usages and customs of the profession of antiquarian booksellers defines the usages generally and universally recognized in all commercial transactions relating to the profession, either between professionals, or between professionals and institutions or individuals. Antiquarian bookselling in this context includes manuscripts, autograph letters, prints, maps and drawings, as well as books, and any other written or printed material.
"Today's world is one where ever increasingly customers seek reassurance"
At the Ordinary General Meeting on 4th February 2018 the presidents of ILAB' s national member associations voted for Sally Burdon (Australia) as new ILAB President. Ms Burdon has since been re-elected and serves now in a 2nd term as standing ILAB President. "I believe there has never been a time when it is more necessary to offer to collectors and institutions a clear indication that ILAB is the organisation that represents the highest standards. Bookselling is global in the way it has never been before and this trend will undoubtedly continue to accelerate. More than ever people seek and need a brand that can be trusted. Uniquely ILAB is that brand."