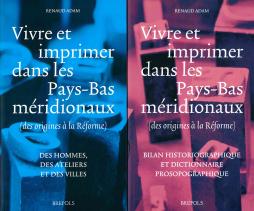 Description

Brepols, 2018 Size: 248x150 mm. 2 vols. Soft cover. XXXIII, 349 + IX, 235 pages, with graphics and maps.

language

French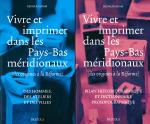 Vivre et imprimer dans les Pays-Bas méridionaux (des origines à la Réforme).
Vol. I Des hommes, des ateliers et des villes – Vol. 2 Bilan historiographique et dictionnaire prosopographique
Adam Renaud
These two volumes of the series "Nugae humanisticae" are devoted to the brilliant thesis of Renaud Adam, with a preface by A. Vanautgaerden. The first volume is a detailed, city-by-city history of the introduction of the art of typography in Southern Netherlands and its evolution up to 1520. The second volume answers the question: how did the first printers integrate into the socio-economic life of Southern Netherlands and the Principality of Liege at the turn of the 15th and 16th centuries? This study has been structured around two axes. The main focus is on the printing profession, with issues realting to the legal status of typographers, the organization of a printing shop, as well as the marketing of books and the profile of the clientele. The final part is the result of an investigation into the social composition of the typographers' community and its relationships with the other actors of urban life.