Description

New Castle, Delaware and London: Oak Knoll Press and V&A Publishing, 2018 305x217 mm. xx, 394 pp. Ill. And with a folding floor plan of the Crystal Palace in pocket at rear. Cloth, dust jacket.

language

English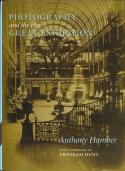 Photography and the 1851 Great Exhibition
Anthony Hamber
The Great Exhibition of the Works of Industry of All Nations, held in London from May to October of 1851, was the genesis of the Victoria and Albert Museum. Published to accompany the opening of the V&A Photography Centre, this book makes extensive use of the V&A collections and archival material related to the 1851 Great Exhibition.
Photography and the 1851 Great Exhibition is the first comprehensive study of the seminal gathering of photographs and photographic equipment that marked the global launch of the form. It examines the role and impact of photography at the 1851 Great Exhibition and beyond, drawing together two decades of research to create a broader understanding of the step-change in image making and distribution represented by that event. With a Foreword by Tristram Hunt and an essay on photoscience by Nicholas Burnett.
While the Great Exhibition has received a variety of examinations, its role in exhibiting and furthering the cause and exploitation of photography and its impact on illustration, printing, publishing, and the arts has been largely underappreciated. More broadly, 1851 saw a massive change in information management: in the creation and dissemination of visually based graphic information characterized by images of the building, its contents and their display that collectively constituted the Great Exhibition. Photography played a critical role in this quantum leap.
The scale and scope of photography of the Great Exhibition is made evident through reproductions of images produced by a wide range of amateur and professional photographers who documented the Great Exhibition, some of which are the only known images of now lost works of art. Also shown and examined are prints produced by traditional reprographics and lithographs and the photographic originals from which they were derived.
The result of more than twenty years of research, this study is based on a number of contemporary sources including official publications, the archive of the Royal Commission for the Exhibition of 1851, the correspondence of William Henry Fox Talbot, letters, newspapers, books, and articles in serial and periodical publications, as well as the Reports by the Juries, from which all 154 photographic images are reproduced in these pages.