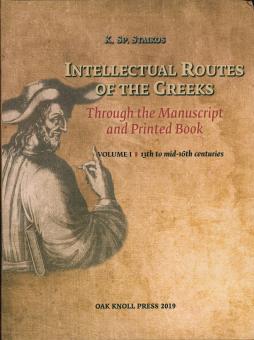 Description

New Castle, Delaware: Oak Knoll Press, 2019 280x215 mm. xxxi, 458 pp. Ill. Hardcover.

language

English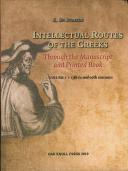 Intellectual Routes of the Greeks through the Manuscript and Printed Book
Vol. I: 13th to mid-16th Centuries [Translated from the Greek by Katerina Spathi]
Konstantinos Sp. Staikos
Intellectual Routes of the Greeks explores the role of written documents in the transmission of knowledge and education among the Greek-speaking population and the gradual formation of national conscience, from the Fall of Constantinople in 1453 to the years preceding the Greek War of Independence of 1821-1829.
This is the first volume of the series and deals with the teaching of Greek language and literature in Italy, and later on in Northern Europe, and its crucial place in the humanist movement which developed from the mid-14th century. Specific questions include the search and collection of Greek manuscripts by Byzantine and Italian scholars, translations, the debate over the primacy of Plato over Aristotle or vice versa, the establishment of the Greek chair at the University of Padua and the role of the printed book in spreading Classical Greek and Byzantine literature.
Finally, special attention is given to the part played by the Church, that is, the three Patriarchates of the East and the monastic centres (Mount Athos and Meteora), which offered a safe haven to the intellectual world and the role of codex copyists in preserving and passing down the cultural tradition.