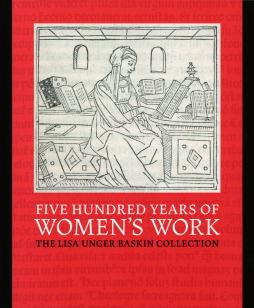 Description

The Grolier Club and Duke University, 2019 280x231 mm. 159 pp., 179 illustrations. Wrappers.

language

English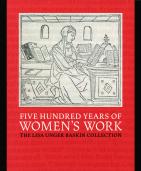 Five Hundred Years of Women's Work: The Lisa Unger Baskin Collection
Naomi L. Nelson, Lauren Reno, & Lisa Unger Baskin, eds.
Women's work. The phrase usually conjures up domestic duties or occupations traditionally associated with women - such as teaching, nursing, or housekeeping. The Lisa Unger Baskin Collection upends those assumptions and makes the true breadth of women's contributions visible. By bringing together materials from across the centuries, Baskin reveals what has been hidden - that women have long pursued a startling range of careers and vocations and that through their work they have supported themselves, their families, and the causes they believed in. Over the course of forty-five years, Baskin acquired more than 11,000 printed books, thousands of manuscripts and photographs, and artifacts ranging from an anti-slavery token to Virginia Woolf's writing desk.
In 2015, Baskin placed her collection at the Sallie Bingham Center for Women's History & Culture in the David M. Rubenstein Rare Book & Manuscript Library at Duke University so that it might be used by scholars, students, and members of the public. This exhibition and accompanying catalogue provide a first glimpse of the diversity and depth of the collection, revealing the lives of women both famous and forgotten and paying tribute to their accomplishments.