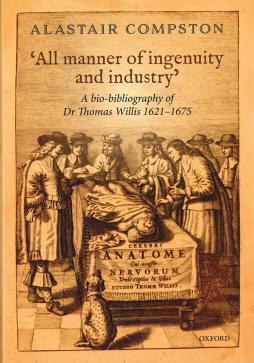 Description

Oxford, University Press, 2021 245x168 mm. xvi, 806 pp. Ill. Hardcover with dust jacket.

language

English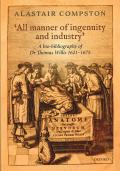 All manner of ingenuity and industry
A Bio-bibliography of Dr Thomas Willis 1621-1675
Alastair Compston
This book celebrates the quatercentenary of the birth of Thomas Willis on 27 January 1621. As a physician in Oxford, Willis's work in the 1650s provides an example of rural medical practice in early modern England. As a member of the Oxford Philosophical Club that met from the 1640s, he was central to the move from classical scholasticism to accounts of anatomy and physiology based on observation and experiment. As Sedleian professor of natural philosophy in Oxford, the surviving records of his lectures from the 1660s provide an example of pedagogy in medicine at that time. And, after moving to London in 1667, Willis continued to interact with a community of scientists and physicians who transformed ideas on respiration, muscular movement and the nervous system.
Despite a busy clinical practice, Willis found time to write extensively on anatomy and physiology, clinical medicine and therapeutics. These contributions are recognized as wise, original and influential. Between 1659 and 1675, Willis published fourteen treatises. These appeared in six published works, one in two parts, written in Latin. Four of the titles contain engraved plates depicting the brain, muscle, lungs and stomach. The illustrators were Christopher Wren, Richard Lower, Edmund King and possibly Willis himself. Soon after his death, the treatises were published as collected works, also in Latin. Starting in 1679, his writings were translated into English and published as Dr Willis's practice of physic, eventually completed in 1684.
The eighteen chapters of this bio-bibliography are in four sections: chapter 1 is biographical; chapters 2 - 4 describe aspects of the history of the book and illustration relevant to Willis's printed works; chapters 5 - 14 provide bibliographical details of Willis's treatises contained in 102 copies printed in Latin, English, Dutch and French between 1659 and 1721; and chapters 15 - 18 summarise the content of Willis's works and their contribution to medical science.