News & Updates
Much ado about... Shakespeare! Worldwide celebrations on the 400th anniversary of the First Folio (Part 2 of 3)
The First Folio is widely considered to be one of the most important books in the English-speaking world. Published in 1623, it is a collection of 36 plays by William Shakespeare, including some of his most famous works, such as "Hamlet," "Macbeth," and "Romeo and Juliet."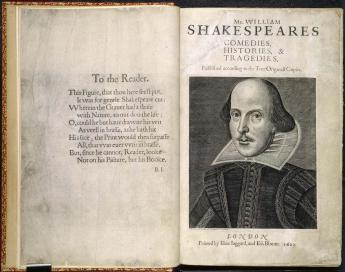 In fact it was the first time that Shakespeare's plays were published together in a single volume. Prior to its publication, his plays had been printed individually, often in incomplete or unauthorized editions, and were not widely available to the public. Upon publication, the First Folio provided a comprehensive and authoritative collection of Shakespeare's works, ensuring that they were preserved for future generations to enjoy.
Moreover, the First Folio also helped to establish Shakespeare's reputation as one of the greatest playwrights of all time. Its publication elevated his status from a popular writer of the Elizabethan and Jacobean eras to a literary giant whose work would continue to inspire and influence writers and artists for centuries to come.
Today, the First Folio is considered a cultural treasure, and copies of it are highly sought after by collectors and institutions around the world. Its enduring significance to the English-speaking world is evidenced by the many celebrations and events being held to commemorate its 400th anniversary, as people continue to be inspired by Shakespeare's timeless themes, characters, and language.


Here are some of the First Folio celebrations happening in the coming months:
Searching for Shakespeare at the Folger Shakespeare Library in Washington: A citywide festival, free and open to all to celebrate the 400th anniversary of the printing of the First Folio will take place during the entire month of April.
Searching for Shakespeare includes an exhibition, a world-premiere play, a citywide scavenger hunt, Shakespeare's Birthday Lecture, family programs, workshops, and more at DCPL locations in all eight wards of Washington, DC. More information HERE.



Shakespeare's Globe: Folio 400 - The Sam Wanamaker Fellowship Lecture

On Shakespeare's birthday, join leading Shakespeare scholar Professor Emma Smith in the Sam Wanamaker Playhouse to ask the question: why should we care about Shakespeare's First Folio?
Professor Emma Smith is a Fellow of Hertford College, Oxford specialising in the cultural reception of Shakespeare in performance, print and criticism and was awarded the 2023 Sam Wanamaker fellowship, in recognition of an academic's contribution to Shakespeare Studies. Each Sam Wanamaker Fellow delivers a public lecture on an area of their work and collaborates with the Globe to bring cutting-edge research to a wider audience. More information HERE

Emma Smith was quoted in the Guardian on 12 March: "Without the First Folio, we would have some of Shakespeare's plays, scattered in individual editions. But we wouldn't have the sense of significance, weight (literally), and permanence that this large volume gives to the author.
"Without this book and the way it has preserved and solidified his reputation, we wouldn't be quoting, performing, teaching, arguing about Shakespeare today."

And why not join a walking tour through London, exploring the places that lead to its publication? A special Printers & Playscripts Walking Tour will mark the 400th anniversary of the First Folio, exploring the Bankside area, venturing across the River Thames into the historic heart of printing in London around St Paul's, the Globe Theatre's expert guides will share the colourful history of printing in Britain and what it meant to Shakespeare's world. More information can be found HERE.



Image by Globe Theatre: Shakespeare walking tours




The British Library will hold an exhibition this year, and a feature film with a screenplay by Richard Bean and Clive Coleman is in production.
More information will be published soon.




The Shakespeare Birthplace Trust Exhibition 2023




Shakespeare Birthplace Trust Exhibition: The Shakespeare Birthplace Trust in Stratford-upon-Avon, England, is hosting an exhibition titled The First Folio: Shakespeare's Global Impact which runs from April to September 2023. The exhibition features the trust's copy of the First Folio, as well as artifacts related to its production and dissemination.
More information HERE


Shakespeare Festival in Ashland: The Oregon Shakespeare Festival in Ashland, Oregon, is celebrating the 400th anniversary of the First Folio with a special season of plays, running from February to October 2023. The festival features productions of several of Shakespeare's plays, as well as other works inspired by his writing.
More information HERE


For further reading, the publication Shakespeare's First Folio: Four Centuries of an Iconic Book - Celebrating the 400th Anniversary of the publication of Shakespeare's First Folio by Emma Smith will be released on 13 April 2023
Order HERE




These are just a few of the many First Folio celebrations happening around the world to commemorate this important anniversary in the history of English literature but also printing and publishing. This list gives a glimpse into the significance of this anniversary, Shakespeare's legacy and the enduring power of his words.