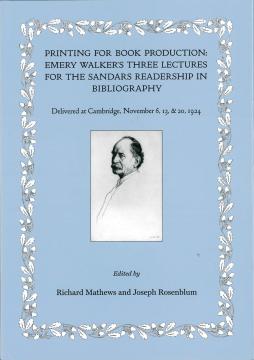 Description

New Castle, Delaware: Oak Knoll Press, 2019 272x185 mm. 253 pp. Ill. Hardcover, dust jacket.

language

English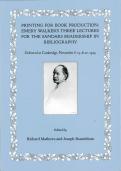 Printing for Book Production
Emery Walker's Three Lectures for the Sandars Readership in Bibliography, Delivered at Cambridge, November 6, 13 & 20, 1924
Richard Mathews and Joseph Rosenblum, eds.
Sir Emery Walker (1851-1933) was a leading figure of the Arts and Crafts movement and the inspiration for the revival of fine printing in Britain, the Continent, and America. His November 1888 address to the Arts and Crafts Exhibition Society (summarized in Appendix 1 of this book; the original text of the speech is lost) prompted William Morris to found the Kelmscott Press.With Thomas James Cobden-Sanderson, Walker established the Doves Press in 1900, and Walker advised other fine presses as well. In 1935 Charles Harry St. John Hornby wrote, "Walker was a mine from which to draw a wealth of counsel ever at the free disposal of every struggling beginner."
In 1924 Walker delivered the Sandars Lectures at the University of Cambridge, in which he presented his lifetime's reflections on the history and technology of printing and book illustration, accompanying his talks with about 200 slides (listed in Appendix 2). This book publishes these lectures for the first time. The book includes many of the images Walker showed to his 1924 audience, including copies of some of his original slides, as well as reproductions, often in color, of other works and items (such as historical printing presses) he mentioned. Appendices include: Walker's 1888 lecture on letterpress printing and Oscar Wilde's review; a list of Walker's 1924 slides; a list of Sandars Lectures from 1895-2019; and notes on the texts and sources.
The text and some 300 pictures in color and black and white combine to provide an excellent history of the printed book from Gutenberg to the early 20th century. An introduction summarizes Walkers life and many achievements. Designed by Scott Vile of the Ascensius Press.