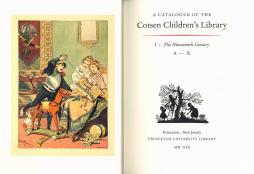 Description

305x225 mm. 2 vols. xi, 610; xxxviii, 565 pp. With 270 color-printed illustrations. Hardcover.

language

English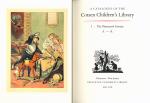 Cotsen Children's Library, Princeton A Catalogue of The Cotsen Children's Library.
I: The Nineteenth Century
Cotsen Children's Library, Princeton
In fall 1996, the Cotsen staff began compiling a multi-volume book catalogue of the research collection, with support from the Department of Special Collections and the Technical Services Department of the Princeton University Library. The catalogue describes that portion of the non-circulating collection of printed books which the donor Lloyd E. Cotsen gifted to Princeton University up to the year 2000. The material comprises approximately 23,000 items out of a total of over 90,000 in over thirty languages published during the Fifteenth through Twentieth centuries. In May 2000, volume I, the Twentieth century A-L, was published, and in December 2003, volume II, the Twentieth century M-Z. 12,403 books are described there, with detailed notes on their illustrations, contents, bindings, and previous owners. In January 2019, volumes I and II of the Nineteenth century were published, including 6,370 book titles and 270 brightly color-printed illustrations. The final two descriptive volumes covering 1,309 entries for books printed between the Sixteenth and Eighteenth centuries was published in July 2020. Finally, a two-volume index to the previous volumes covering all 20,082 entries has been newly released in 2021.