Actualités
Off to Los Angeles - Collectors and the trade meet in Pasadena this weekend!
California can be associated with many things, ...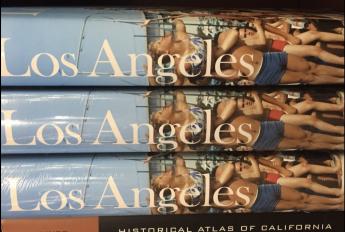 Hollywood! California, the home of Hollywood and the entertainment industry, is widely recognized as the center of the American film and television industry.
Technology! Silicon Valley, located in the Bay Area of California, a leading international hub of the technology industry, is home to many of the world's largest tech companies, including Apple, Google, and Facebook.
Natural beauty - California is known for its stunning natural beauty, including its coastline, beaches, deserts, and national parks, such as Yosemite and Sequoia.
Diversity: California is one of the most diverse states in the US and is known for its melting pot of cultures and ethnicities. It is often seen as a leader in progressive social and political attitudes, including support for environmental protection, LGBT rights, and immigration.
Wealth and luxury: California is home to some of the wealthiest cities in the country, including Los Angeles and San Francisco, and is associated with luxury, glamour, and sophistication.
Education: Berkeley, in the San Francisco Bay Area of California, is known for its rich cultural and intellectual history. Home to the University of California, Berkeley is one of the top public universities in the world, widely recognized as one of the centers of the 1960s counterculture movement.
Book fairs and a vibrant book trade find a fitting place here, and only five years ago, in 2018, the Antiquarian Booksellers' Association of America, ABAA, invited colleagues to a memorable ILAB Congress in Los Angeles, Pasadena. Those who had not been to the Los Angeles California fairs before had the fantastic opportunity to see some bibliophilic highlights such as the Huntington Library and the Getty Museum and Library, and several private collectors opened the doors to their outstanding collections.
Five years and a pandemic later, which caused unforeseen upheaval to the fair circuit worldwide, the California fair is retaking place at the Pasadena Convention Center and will make Los Angeles again a center for collectors, book enthusiasts and the international rare book trade over the coming weekend.
Running from 10 - 12 February, this three-day event features fine and rare materials from around the globe, including manuscripts, modern first editions, children's books, ephemera, maps, and autographs, as well as antiquarian books on a vast array of topics.
An opening night will benefit The Huntington Library, Art Museum and Botanical Gardens. Founded by Henry E. Huntington in 1919, the institution holds one of the largest collections of rare books and manuscripts in the world, including works by Shakespeare, Chaucer, and Milton, as well as a vast collection of American history, literature, and maps.
In addition to the items for sale, this year's fair includes a diverse mix of special collection exhibitions, including:

"Helen Brown: Bibliophile and Champion of West Coast Cuisine" – The exhibition pays homage to Helen Brown, the inventor of "California Cuisine" and writer of the first-ever magazine column solely dedicated to the ingredients, techniques, and philosophy that have come to be known as California Cuisine. An avid food book collector together with her husband, their collection grew to 15,000 volumes over 27 years. Highlights of the exhibition include Brown's inscribed materials
and correspondence with fellow iconic food writer, M.F.K. Fisher; copies of The Californian Magazine featuring Brown's column; and books given to Helen Brown inscribed by James Beard, Elizabeth David, Alice B. Toklas and other food luminaries.

"The Game's Afoot: Collecting Sherlock Holmes" – The Ned Guymon Collection of Mystery and Detective Fiction at Occidental College is one of the world's largest in the genre; the exhibition will focus on the collection's Sherlock Holmes holdings, with first edition books, magazines, and rare, fascinating ephemera.

"What the Hell is Ukulele Literature?" – This exhibit will attempt to answer this question by featuring 170 years of books and ephemera dealing with the diminutive instrument from its little-known Madeiran roots to its current status as an international phenomenon. The ukulele has a long history of not being taken seriously: small, toy-like, and high-pitched, it has always been rife with comic possibilities. As the Cleveland Plain Dealer once observed: "The ukulele's unhipness seems to be one of the pillars on which our modern civilization is built." Yet it has drawn the attention of a surprising number of well-known authors including Rudyard Kipling, Jack London, Sinclair Lewis, P.G. Wodehouse, Agatha Christie, and Thomas Pynchon, among others.

"Pushing the Envelope: Southern California Women Bookmakers" – Posing the question "What is bookness?", this exhibit, curated by renowned bookmaking and artist book expert Kitty Maryatt, features books made by Southern California women letterpress printers, calligraphers, and binders.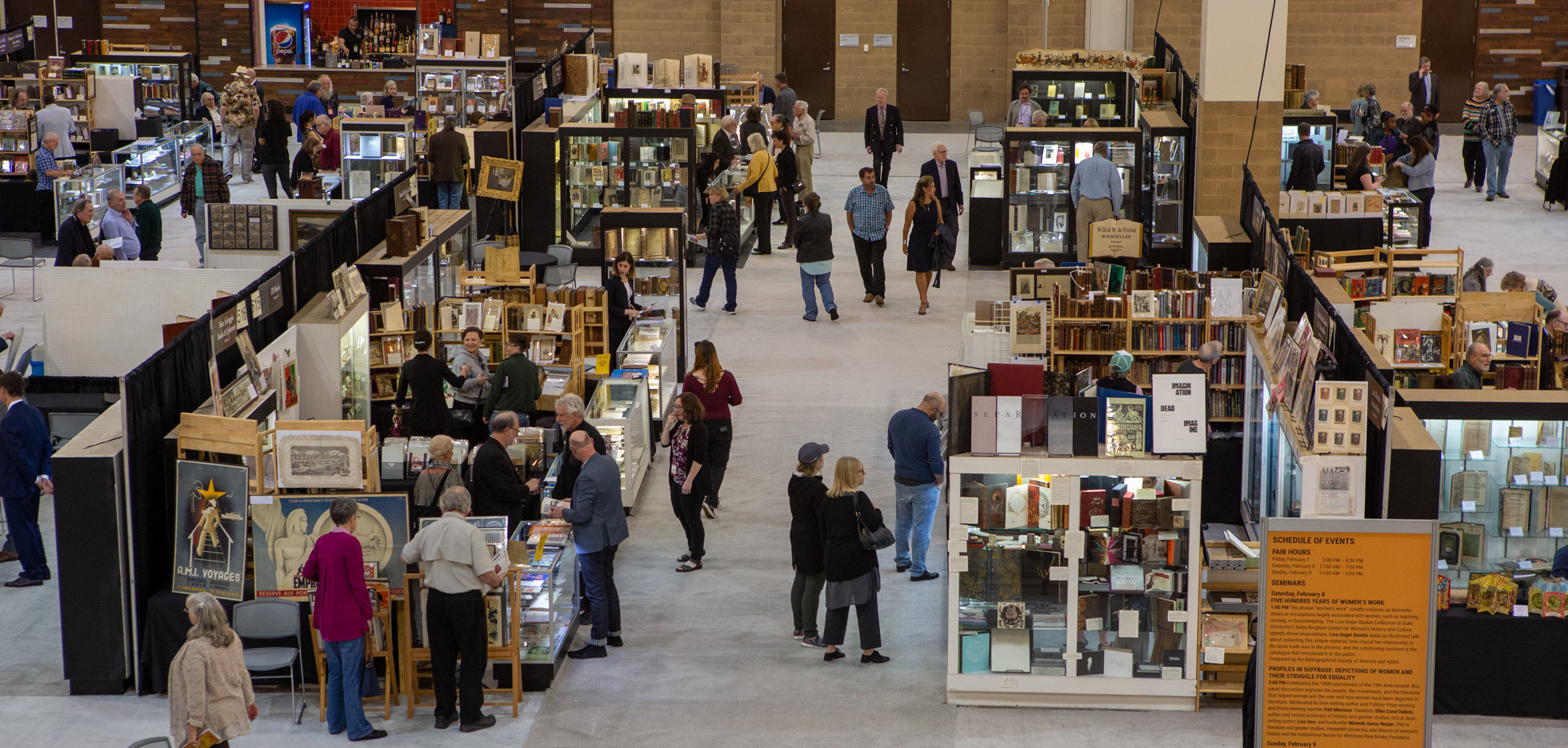 But booksellers and collectors are here to browse and buy - Highlights from the ABAA's Fair Preview
LAMOTTE, Louise. Album with 191 Fashion Design Illustrations. Paris: 1920-1924.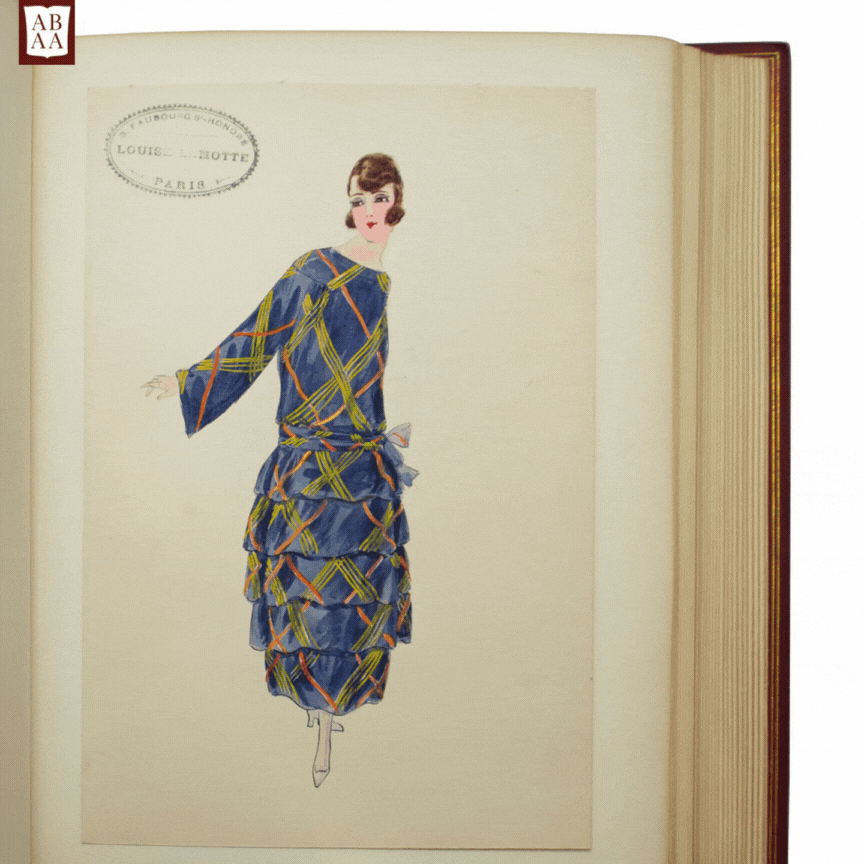 Three large quarto volumes with 191 beautiful original fashion design illustrations tipped in on cards. Illustrations are in pen-and-ink and hand-colored with watercolors and sometimes heightened in gold and silver. Leaves: (11 x 9 inches; 280 x 225 mm) Illustrations: (9 1/2 x 6 3/8 inches; 240 x 160 mm). Each illustration is stamped with Lamotte's ink stamp on verso, and occasionally also on recto. The stamp reads "3 Faubourg St. Honore Paris Louise Lamotte" Each plate is also numbered and named on verso in ink. Many of the illustrations are also signed by Lamotte on verso. The spine of volume one reads 1920-1921, volume II reads 1922-1923, and volume III reads 1924.
These drawings are particularly interesting in that the 1920s marked an important era in fashion. Fashion underwent a modernization and a simplification from the earlier Victorian and Edwardian eras. As seen in these present examples, the "roaring twenties" brought "the development of convenient and modern styles that rejected formality and multiple layers in favor of comfort and a more natural effect. The tubular look of La Garçonne fashion dominated much of the decade and was typified by the flapper dress which had dropped waistlines, raised hemlines, and was made from economical fabrics." (LOC, Women's Fashion History Through Newspapers: 1921-1940 by Heathe Thomas)
Bound by Gruel in full red morocco. Watered silk endpapers. Gilt dentelles and gilt board edges. All edges gilt. Louise Lamotte's gilt monogram in upper right corner of front boards. Spines lettered in gilt. Some scuffing to back board of volume I. Front board and spine of volume III a bit darkened. Some rubbing along board edges and outer joints, mainly to volume III. Some chipping to top of spine of Volume III. The silk is a bit loose on some of the free endpapers. Some minor offsetting from illustrations to facing blanks, but all illustrations are very clean. Overall a very good set of beautiful illustrations, a one-of-a- kind piece. These three beautifully bound volumes are filled with 191 fashion design illustrations in the hand of French couturier Louise Lamotte.
The illustrations are of woman's fashions and drawn on a woman's body. Each design is named with a woman's name and dated with a year between 1920-1924 and bound within the correlating volume. Very little is known about fashion designer Louise Lamotte. She designed costumes within the theater and had an apartment/fashion studio located at 3 Faubourg St. Honore in Paris. During the 1920s and into present time, this street was and continues to be a hub for haute couture and high end fashion, housing the likes of Chanel, Hermes and Lanvin. After Lomotte's death, distant relative and artist Avital Sagalyn stayed at Lamotte's apartment at 3 Faubourg St. Honore at the request of Lamotte's brother. Sagalyn described the apartment being full of mannequins and three-way mirrors. These mannequins and mirrors went on to inspire Sagalyn's cubist paintings on the subject.
Offered by Heritage Book Shop, booth 202.
Muir, John. Steep Trails: California Utah Nevada Washington Oregon The Grand Cañon.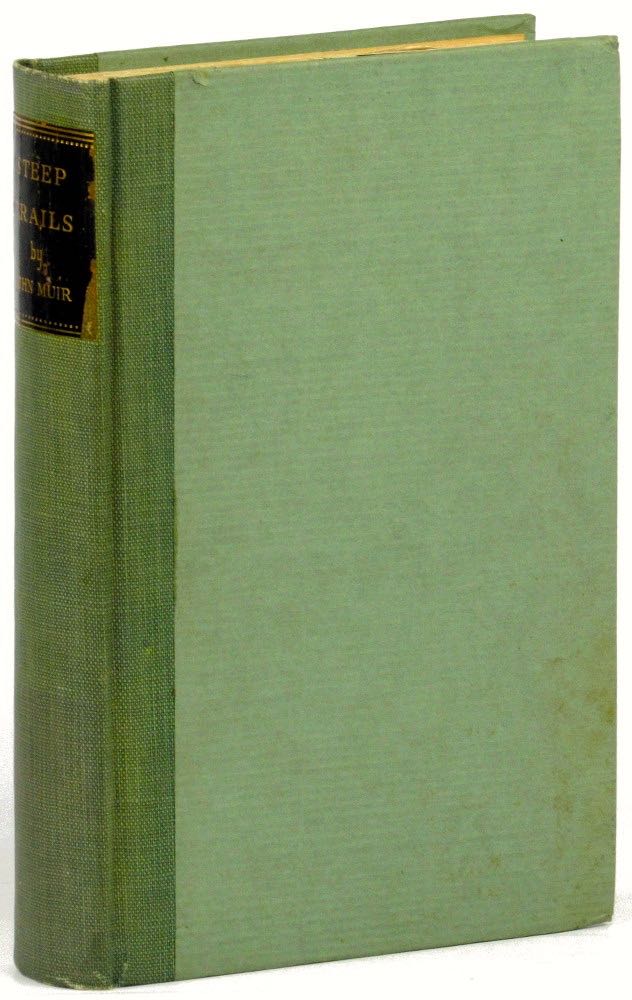 Boston and New York: Houghton Mifflin, 1918. Limited Edition. Octavo. [1], xi, 391 pages., [1]. Hand colored photogravure frontispiece. Illustrated. Large Paper Edition. Green paper covered boards. Green cloth spine. Gilt stamped title on dark green leather spine label. Untrimmed edges. Small edge chip to title label on spine. Number 34 of 350 copies printed by the Riverside Press in Cambridge, Massachusetts. Very good. Hardcover.
Offered by David A. Hamilton Americana Books, booth 109.
Ono, Yoko. Grapefruit.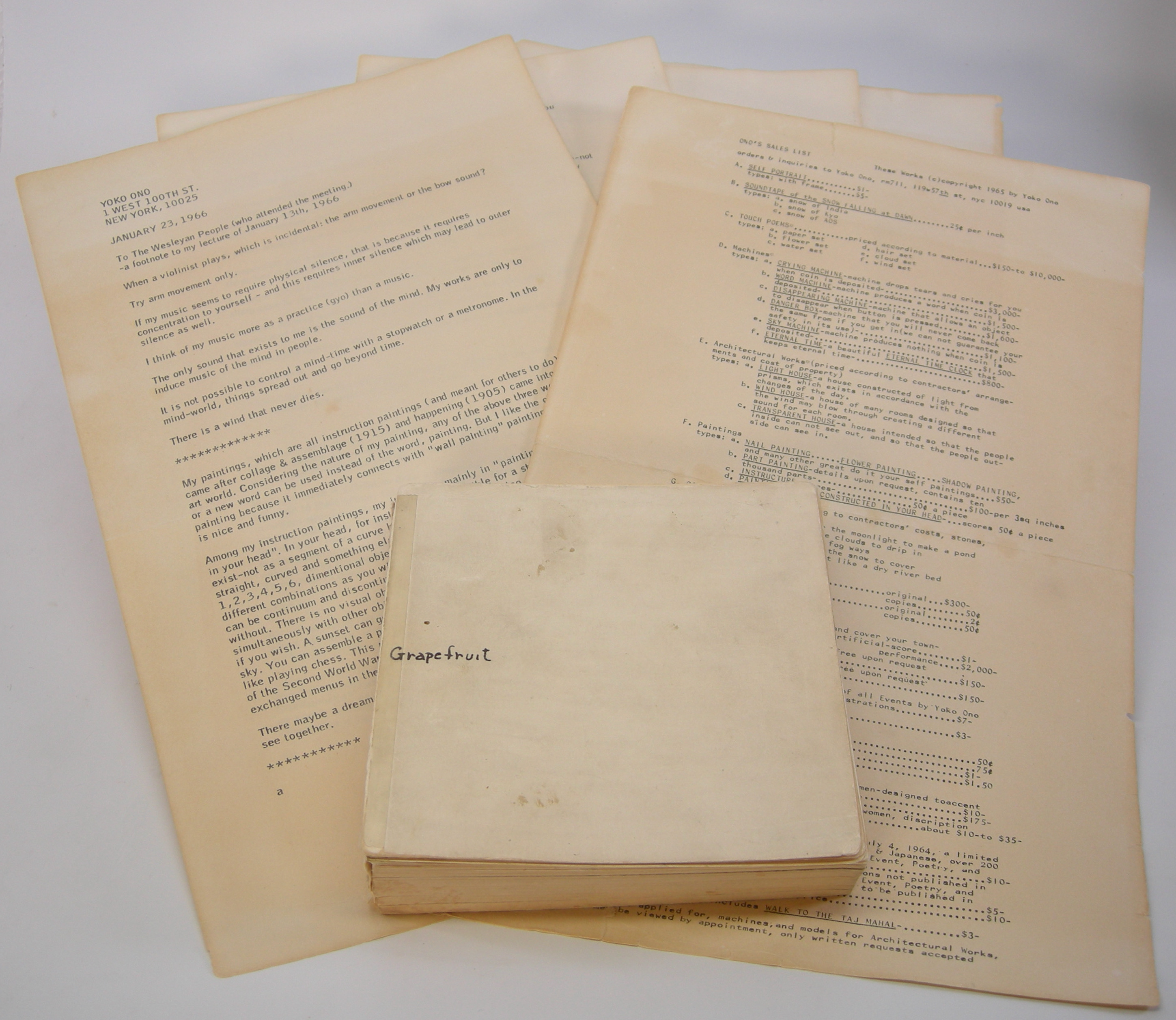 Tokyo: Wunternaum Press, 1964. First Edition. Square 12mo, unpag.; original wrappers, titled on the front; with additional ephemera on five legal-sized leaves. Wear to spine and edges, front wrapper and first few leaves pulled loose; some soil and marking; ephemera folded, with a few short tears and marks, and some small holograph corrections.
One of a stated 500 copies -- and likely fewer -- in the first edition of Ono's first book, a compendium of concept pieces in the form of instructions. The book is a significant landmark of Ono's important early concept pieces, in advance of the Conceptual Art movement of the 1970s, and marking her involvement with the Fluxus group of avant-garde artists and composers. Most of the works documented in Grapefruit date from the early 1960s; some go as far back as to the early 1950s. The contents are divided into five groups: Music, Painting, Event, Poetry, and Object. This copy has been inscribed and signed by Ono on a preliminary leaf in 1966, signed in full. It is accompanied by two rare pieces of ephemera: "To the Wesleyan People. . ." Ono's printed manifesto dated January 23, 1966 on four legal-size pages; and "Ono's Sales List," single legal-size page with printed list of available works, copyrighted 1965 and including a wide range of concept works such as "Soundtape of Snow Falling at Dawn," "Touch Poems," "Machines" (e.g. "Crying Machine- machine drops tears and cries for you when coin is deposited" and "Sky Machine- machine produces nothing when coin is deposited"); "Events," "Music Scores," and "Books (including Grapefruit). Ono has stated that the list was produced in an edition of just 200 copies for supporters of her work. All of the items were obtained by the recipient of the inscription at the Event called "The Stone," created by Ono and her then-husband Anthony Cox at New York's Judson Church, during which visitors were invited to experience existence inside of loosely woven black cotton bags. "To the Wesleyan People. . ." is the clearest statement that Ono produced to explain her artistic philosophy. It was included in the later trade edition of Grapefruit. Also present is a contemporary review of the Judson Church evening from the New York Herald Tribune.
Offered by Locus Solus Rare Books, booth 107.
Ferenc Molnár's original manuscript of his 1950 book "Companion in Exile / Notes for an Autobiography".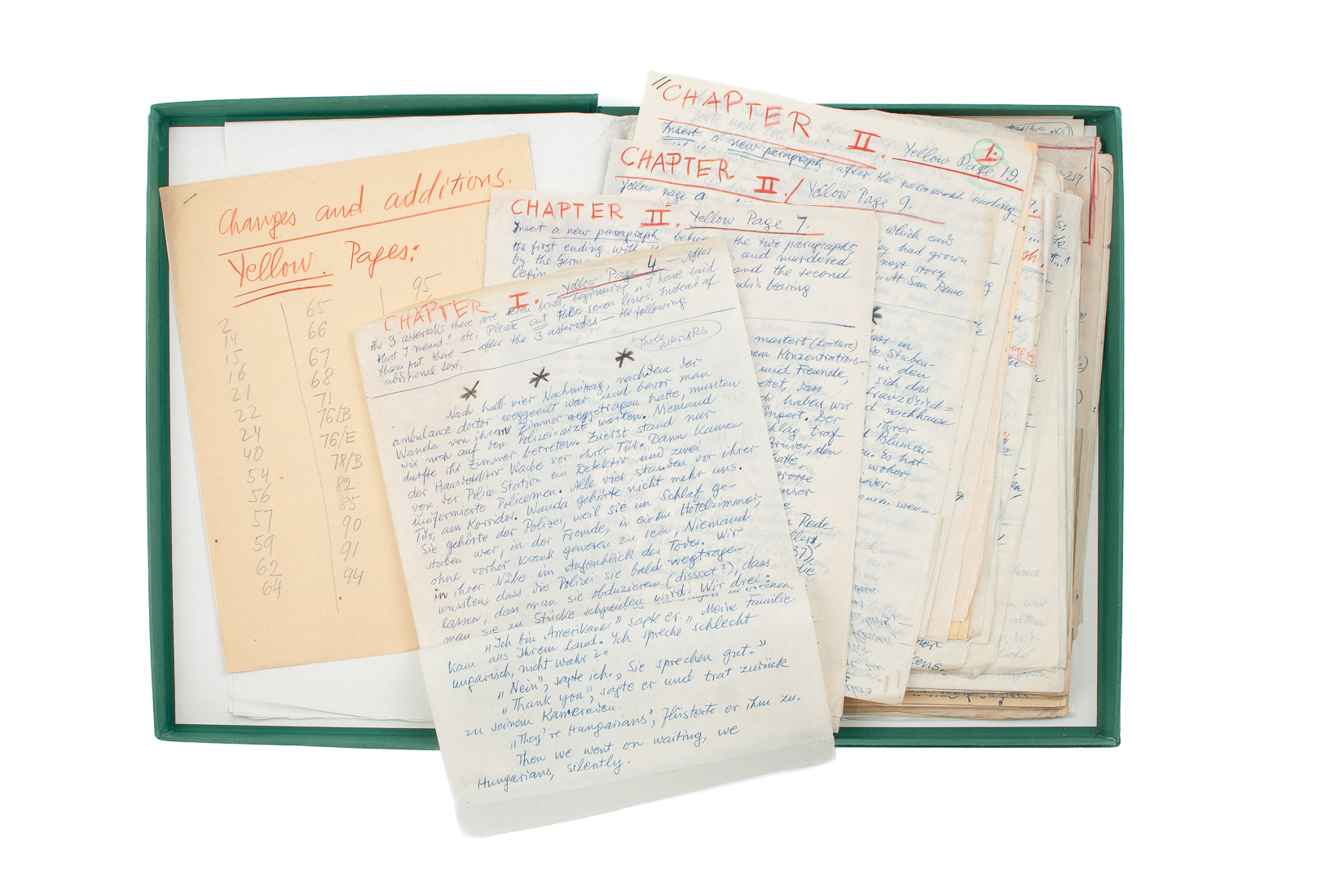 220 pages of instructions to his translator along with reworked sections of the book.
Offered by Mark Funke, Bookseller, booth 108.
RYRIE, John (1961 - ). Strangers on a train: 48 linocuts.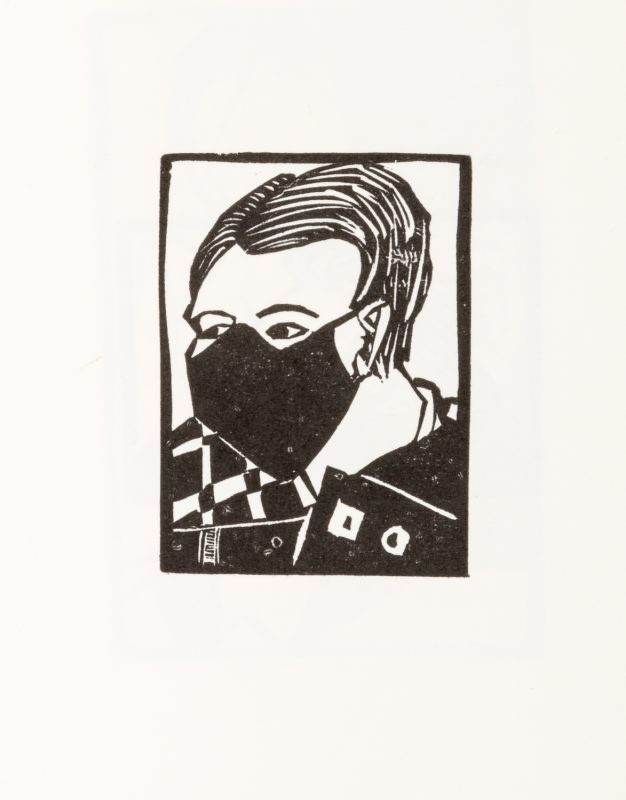 Melbourne : the artist, 2021. Artist's book, cloth over boards, stitch bound, 205 x 140 mm, pp. [60], printed with 48 linocuts, limited edition of 16 signed and numbered copies.
A collection of linocuts prints derived from sketches made on public transport during the Covid-19 pandemic.
This dangerous chance assemblage of masked faces is given an appropriately scary noir title suggested by the Patricia Highsmith novel and the better-known Alfred Hitchcock film.
Offered by Douglas Stewart Fine Books, booth 102.
Austin, Mary. THE LAND OF LITTLE RAIN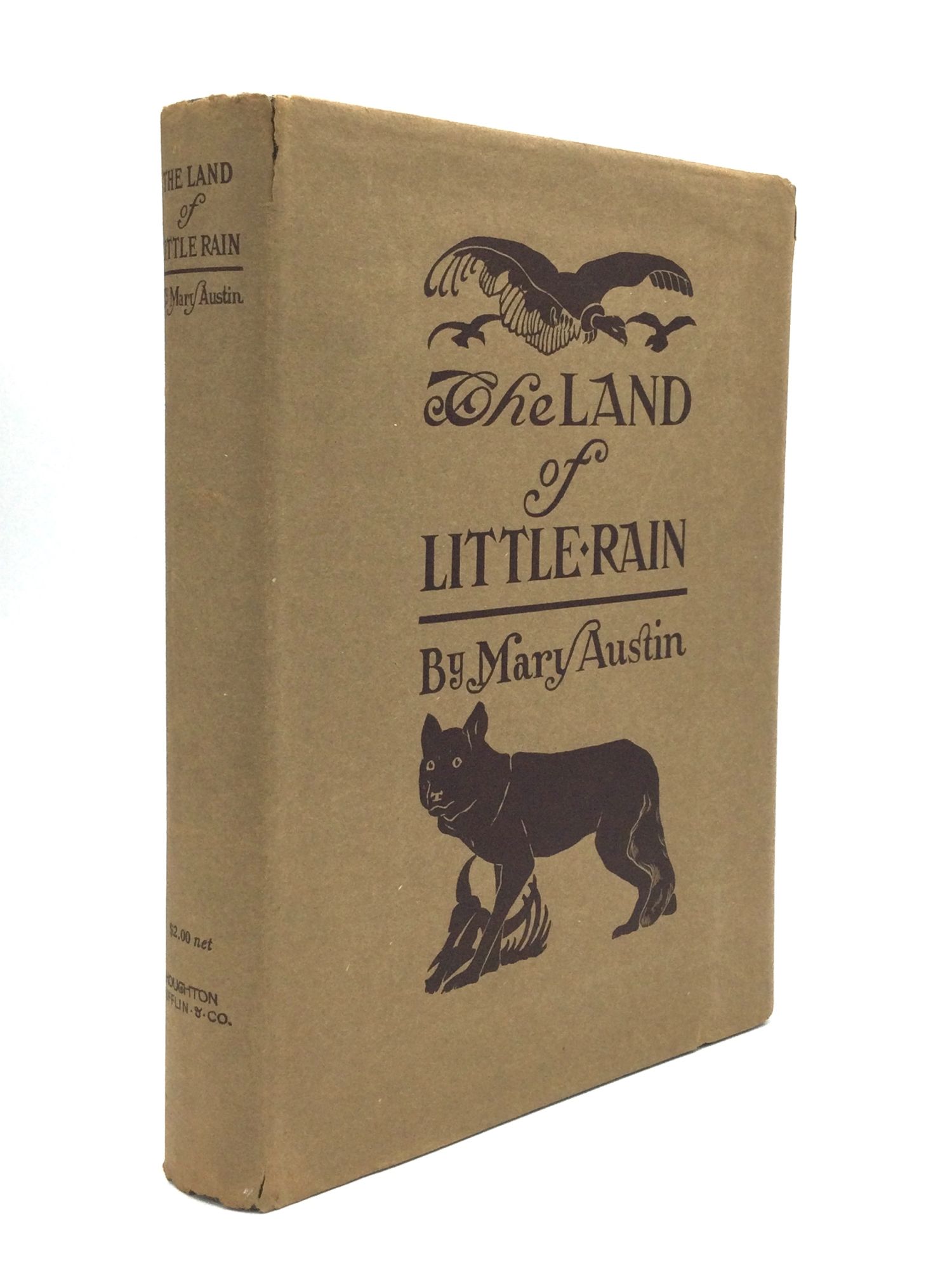 Boston and New York: Houghton, Mifflin and Company, 1903. First edition. Square octavo: xi, [5], 280, [1], [1, printer's imprint] p. with a frontispiece, three halftone plates, and numerous border decorations by E. Boyd Smith. Original olive green cloth binding, with pictorial light green, dark green, gilt, and black stamping. Small period bookseller's label to the front pastedown. Light rubbing to the corners and tips; else fine in a particular choice example of the scarce dust jacket with just a hint of edgewear. The Zamorano Eighty 2.
This paean to the high California desert consists of fourteen sketches based on personal observation following solitary sojourns tramping through desert trails and "the streets of the mountains." Mary Austin (1868-1934), naturalist, feminist, mystic, and poet, wrote thirty-five books and hundreds of articles during her lifetime, but The Land of Little Rain, her first book, is regarded as her masterpiece. Her nature writings have been compared to those of John Muir, John Burroughs, and Henry David Thoreau. Living in the little town of Independence, Inyo County, she, more than anyone, succeeded in conveying the beauty of this simultaneously forbidding yet magnetic landscape with its hardy mixture of plants, animals, and human beings. Lawrence Clark Powell summed up the beauty of her words, writing: "With her feet on earth and her head in the sky, she gave voice in singing prose to the soul of a hitherto unsung land." Through her carefully crafted essays, she conveyed to her readers the feel of the soil, the inherent beauty of the desert flora, the graceful movements of the rattlesnake, and the pleasant aromas emanating from a Native American cooking bowl. Importantly, Austin painted a word picture of an Owens Valley that would soon be changed forever when a thirsty Los Angeles siphoned off the life-giving water from this "land of little rain."
Offered by johnson rare books & archives, booth 108A.
Medicine - Avicenna (Abu 'Ali al-Husayn ibn Abdalla ibn Sina). Liber canonis totius medicine...a Gerardo Cremone(n)si ab arabica lingua in latina(m) reductus.
Lyon, Myt, 1522 23 : 17 cm. 10 leaves, 453 pages. Modern half calf binding.
The Canon of Medicine is an encyclopedia of medicine in five books compiled by Persian physician-philosopher Avicenna and completed in 1025. Perhaps one of the most famous and influential early books, that continued to influence later creations - Extremely rare.
Offered by Michael Steinbach Rare Books, booth 215.
Bartram, William. Travels Through North and South Carolina, Georgia, East and West Florida, The Cherokee Country, The Extensive Territories of the Muscogulges or Creek Confederacy.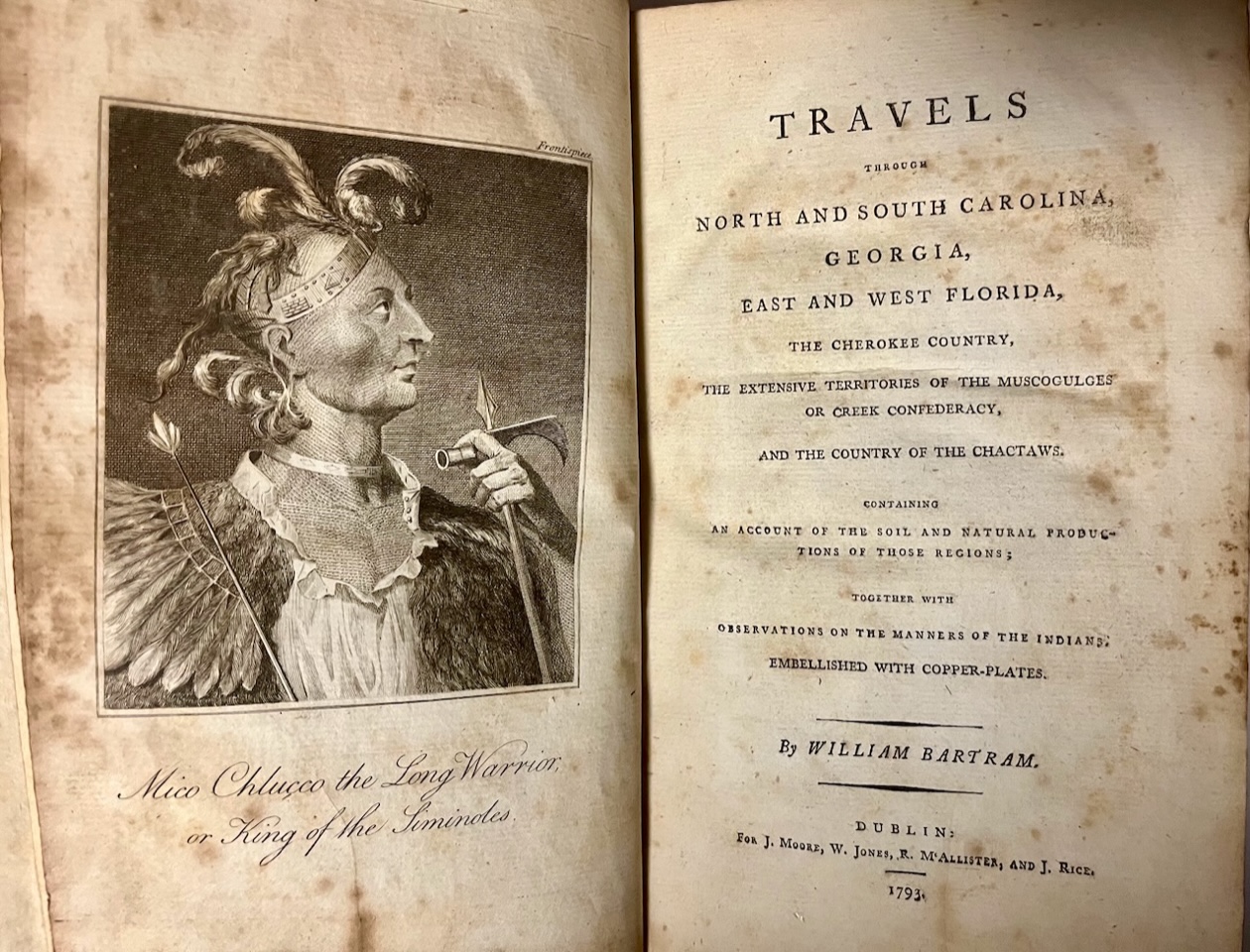 Dublin: For J. Moore, W. Jones, R. McAllister, and J. Rice, 1793. Later printing. Octavo. xxiv, 520 pages, [11] page index, directions to the binder. Frontispiece engraving of Mico Chlucco. Illustrated with 7 plates (one folding) and one folding map. Fine binding. Later speckled calf leather binding with red leather title label on spine. Newer front and rear end sheets added. Light foxing to frontispiece engraving and title page. Rest of contents in very good condition. This edition follows the Philadelphia 1791 first edition and the First English edition of 1792. Bartram's classic account of southern natural history, native Americans and exploration in the southeastern states during the American Revolution period.
Howes B 223; Field 94; Sabin 3870; Clark I 197; De Renne Vol. 1 p.257; See Field 96 Very good. Leather bound.
Offered by David A. Hamilton Americana Books, booth 109.
Milosz, Czeslaw. Poemat o czasie zastyglym: [A Poem on Frozen Time].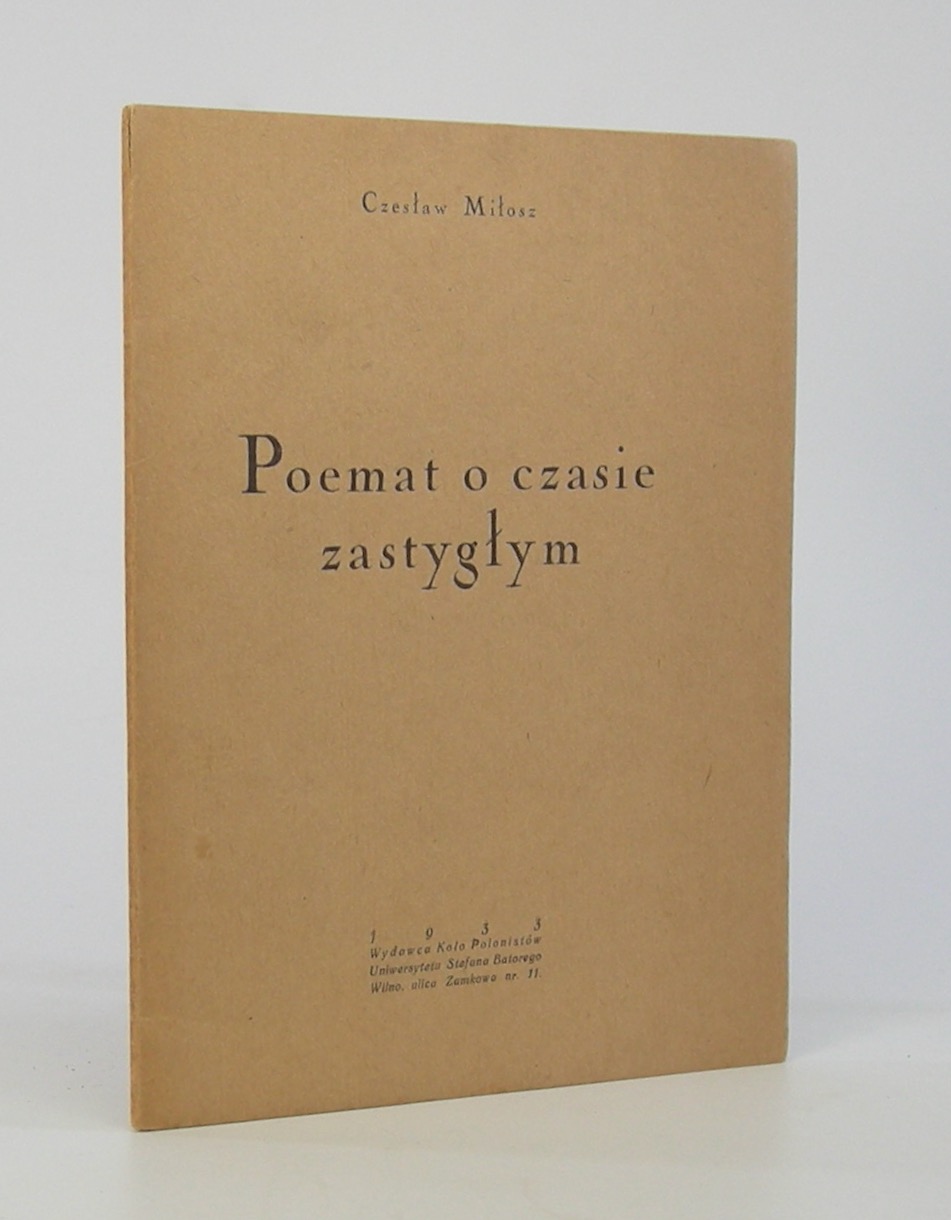 WIlno: Wydawca Kolo Polonistow Sluchaczy Uniwerszytetu Stefana Batorego, 1933. First Edition. 8vo, 23pp; original printed tan wrappers. A slight split at the top of the front hinge; ex-library stamp on title page; very close to fine, fresh, with no wear.
Milosz's first book, published in an edition of just 300 copies while he was a student at the University of Vilnius. "Milosz did not expect much publicity when his first small volume of poems, A Poem on Frozen Time, was dispatched from the printers in the spring of 1933. . . There was no expectation that any income might be derived from sales, but the book did gain attention. Significantly, it received awards from the Union of Polish writers in Wilno and the Ministry of Religious Faith and Education, and a substantial sum of money. Manfred Kridl, who was one of the judges, declared that 'Milosz is one of the genuine, fresh and clearly defined talents that make up the new generation.'" (Andrzej Franaszek, Milosz: A Biography, p. 105). The slender book was inexpensively produced, with an appealing, subtly modernist typographic design. There are small hand corrections to typos on two pages. An auspicious start to a long and illustrious career, through war, resistance, and exile, that would bring Milosz the Nobel Prize for Literature in 1980. All of his early books, appearing in Poland on the eve of the Second World War, are rare. Of this, his debut collection, OCLC shows just four copies in libraries, two in Poland and two in North America. This copy bears the stamp of a Vilnius library, from which it was deaccessioned as a duplicate. Volynska-Bogert & Zalewski p. 4.
Offered by Locus Solus Rare Books, booth 107.
[PHILADELPHIA 1876 et al. ] ANON PHILADELPHIA CENTENNIAL EXHIBITION AND RELATED ITEMS c1876 - 1880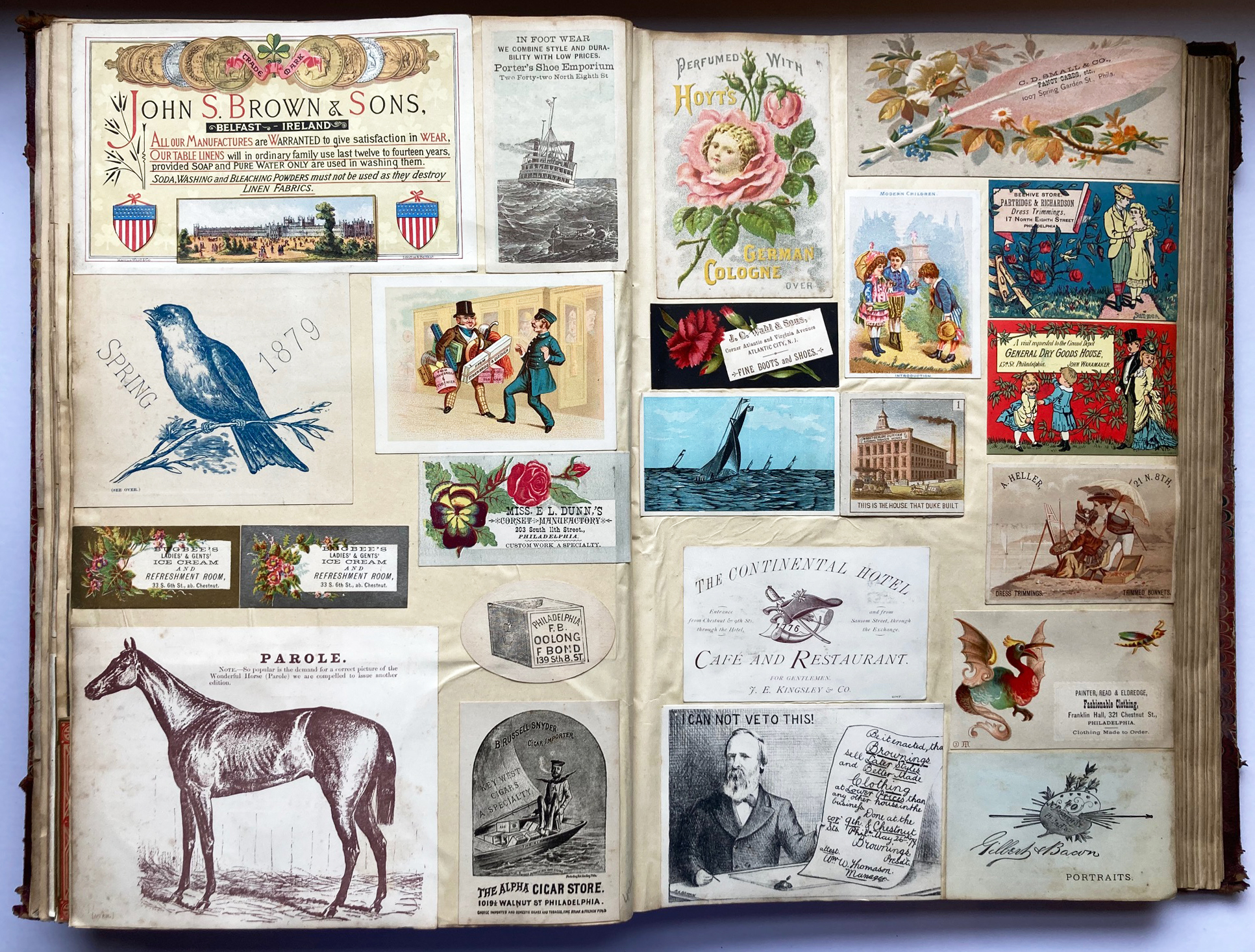 Large Scrap book, Quarter calf, raised bands, marbled boards, worn at corners and edges. Internally very good. A Beautifully composed scrapbook that contains an exceptional collection of trade cards and period adverts for manufacturers and retailers. Many printed by chromolithography. Approximately 1100 items which includes some series items ie Clarks on Spool cotton, 22 sequential images. Many trade cards for flowers and clothes nearly all from the decade of the year of the exhibition or just after. Towards the end of this massive book, the items are less in number and tend to be larger than standard business cards. Some larger adverts and cards for smoking products in particular. On balance most associated with Philadelphia but some also from Atlanta and a few from New York. It is just speculation but the items were probably gathered from trade stands at the exhibition then the collection extended.
Janette Ray Booksellers, booth 507.

Ho! For California! -- January, 1849 [California Gold Rush]. Take Notice. Ho! for California! A Meeting of the Citizens of the Village of Canajoharie and Its Vicinity, Will Be Held at the House of T.W. Bingham, on Friday Evening... [caption title and part of text].
Canajoharie, N.Y.: January 16, 1849. Small broadside, measuring approximately 8 x 8 inches. Browned, but not brittle. Two small losses at lower right corner, not affecting text; a few minor reinforcements on blank verso. About very good. A rare Forty-Niner recruiting broadside that announces a meeting in Canajoharie, New York, on January 19, 1849, "For the purpose of taking into consideration the propriety of forming a company to proceed to California, and mining for Gold." Canajoharie is upstate, on the Mohawk River between Albany and Utica. The announcement is signed in type by "Many Citizens," and dated January 16, 1849, making it one of the earliest possible documents of the craze that swept the country in 1849, and resulted in nearly 70,000 immigrant prospectors to California from the rest of the United States alone. While there is no record of the decision arrived upon by the many citizens of Canajoharie, their meeting was indicative of thousands like it that occurred to discuss the astounding reports of gold discoveries arriving from the Pacific coast. A rather extraordinary printed broadside from the first days of the California Gold Rush; we locate only two copies, at Yale and Berkeley.
Offered by McBride Rare Books, booth 401.
McGowan, Edward. NARRATIVE OF EDWARD MCGOWAN, including a Full Account of the Author's Adventures and Perils, while persecuted by the San Francisco Vigilance Committee of 1856.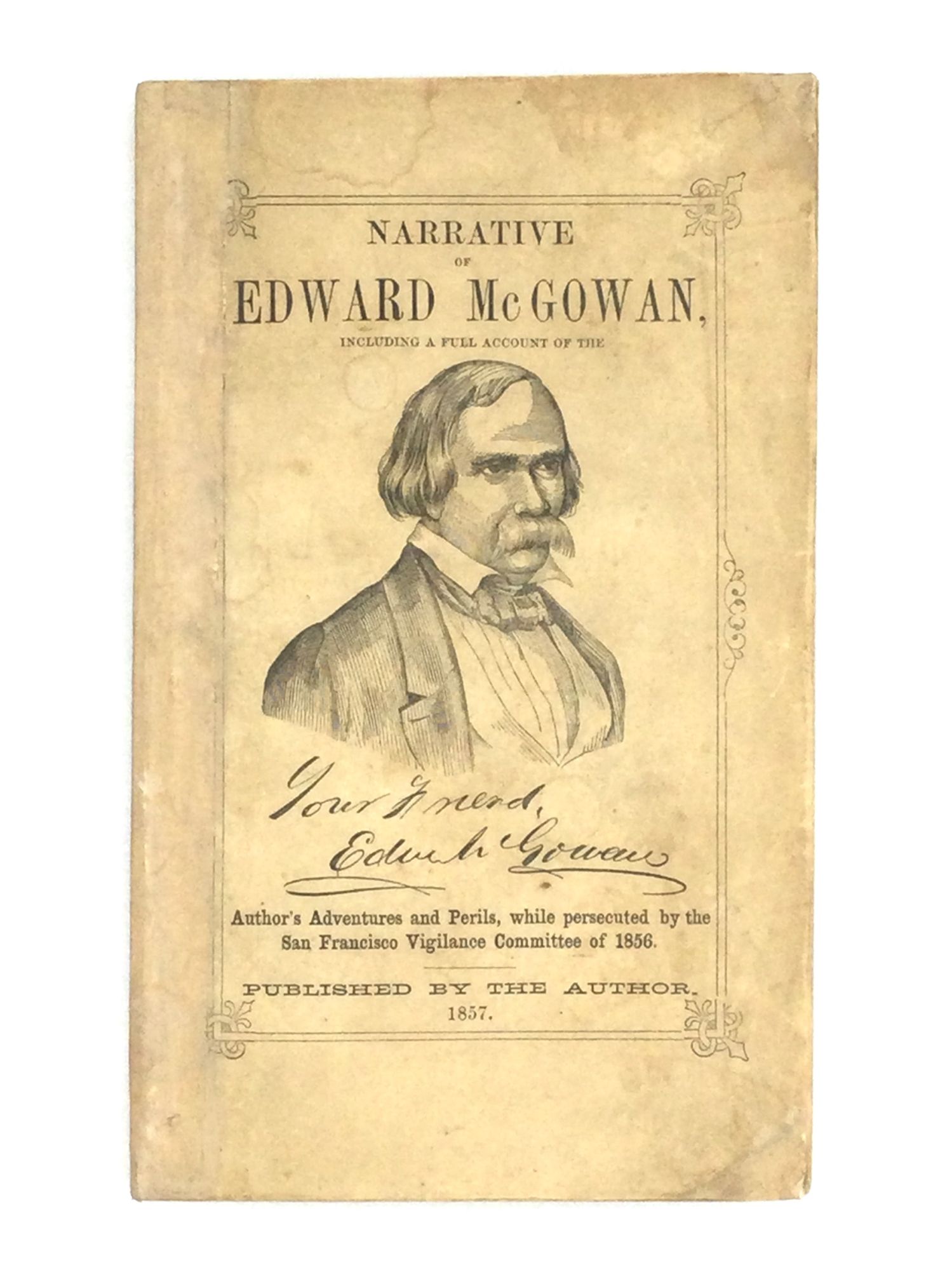 San Francisco: Published by the Author, 1857. First edition. 12mo: viii [9]-240 p. with 9 engraved text illustrations, 7 of which are full-page (some signed by Huestis). Original printed buff paper wrappers, with engraved portrait of Edward McGowan and facsimile of his signature. Some occasional light foxing, with a period previous owner's ink signature to the dedication page. Some general toning and a few faint stains to the wrappers, with export restoration to the spine and corners. Housed in a custom brown cloth chemise and a one-quarter brown morocco over brown cloth slipcase. The Zamorano Eighty 54.
Justice of the Peace 'Ned' McGowan, part of Senator David Broderick's political machine, was accused of masterminding James P. Casey's murder of San Francisco journalist James King of William in 1856. To escape impending justice at the hands of the second Vigilance Committee, he skedaddled out of town. His friend Casey was not so lucky and swung from the end of a rope at the committee's headquarters. Traveling at night and dodging the forces of the all-seeing eye of law-and-order boys, the fugitive hid out in the rugged mountains of the Santa Barbara area with the assistance of outlaw Jack Powers and the kindly Dr. Nicholas Den. His ability to elude the self-appointed lawmen earned him the nickname of 'Ned the Ubiquitous.' When the excitement died down, slippery Ned turned up in Sacramento, and demanded a trial to clear his good name. The trial was held in neutral Napa, and exercising legal tactics that would impress even modern defense attorneys, McGowan won his freedom. Vindicated, he set himself up in Sacramento and began writing a book about his side of the story concerning his persecution by the Vigilantes. Self-published in 1857 and dedicated to Dr. Den, Ned's narrative created a sensation not only for the incredible adventure but also for his defiance of the powerful Vigilantes. The wrapper title with its portrait of the author signed 'your friend' and its rabble-rousing subtitle no doubt attracted much attention. It was easily the most action-packed book published in California during the Golden Era, rivaling in excitement John Rollin Ridge's quasi-historical account of Joaquín Murieta" (Gary F. Kurutz, The Zamorano 80 Collection of Daniel G. Volkmann Jr.).
Offered by johnson rare books & archives, booth 108A.
GOYA, FRANCISCO. Los desastres de la guerra. Colección de ochenta láminas inventadas y grabadas al agua-fuerte. Publicala la Real Academia de Bellas Artes de San Fernando.
Madrid, 1906.
A beautiful copy of the splendid fourth edition of Goya's magnificent "Disasters of War" - one of the most significant anti-war works of art ever produced - consisting in all 80 plates that were issued.
"The Disasters of War" constitutes Goya's political masterpiece, directly inspired by and documenting the horrors he witnessed during the Peninsular War of 1808-14 between Spain and France under Napoleon Bonaparte, the terrible famine in Madrid in 1811-12, and the disappointment at the restoration of the Bourbon monarchy. As such, it is one of the earliest and most important examples of war documentation and remains to this day one of the boldest anti-war statements ever made. This, however, is also the reason why these groundbreaking etchings were not published during Goya's life-time. It was both too dangerous and too gruesome. As Alastair Sooke puts it, "[e]ven today it is difficult to look at the Disasters, because Goya catalogues the brutality and fatal consequences of war in such a stark, confrontational and unflinching manner." (See his article for BBC Culture, 2014).
Offered by Herman H.J. Lynge & Søn A/S, booth 200.
George Grosz's Ecce Homo.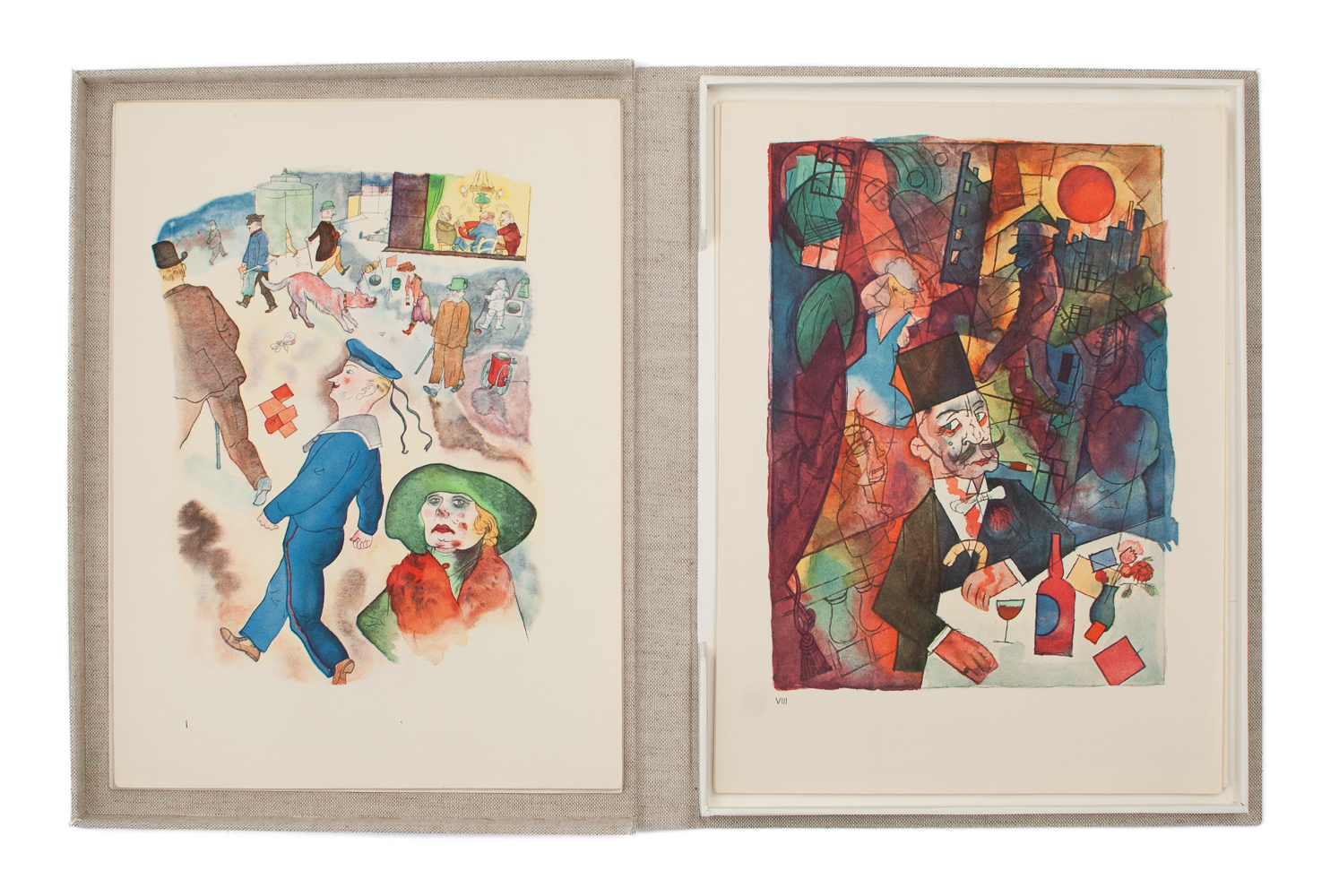 The very rare 1923 Edition B II with 16 watercolors.
Offered by Mark Funke, Bookseller, booth 108.
Honda, George Noburu and Honda, Hatsuko Janet Oda. [Collection Compiled by Japanese American Couple Detailing Their Lives Before, During, and After World War II Including Over 575 Photographs Documenting Internment Camp Life.]
California and Arizona: mostly late 1930s to late 1940s. Approximately 1080 photographs contained in five photo albums, with an additional 125 loose photos (nearly all are black and white) + three panoramic photos + six items of ephemera from Poston + 32 other items of ephemera. Photos are a range of sizes with the most common 4" x 3". Most photos in albums are inserted into corner mounts and most are captioned either on the page or on versos. Albums generally very good plus or better; photos generally near fine or better; ephemera generally very good or better.
This is a collection of over 1200 photographs and some ephemera which document the World War II-era lives of George and Janet Honda. George and Janet both grew up in Upland, California and knew each other prior to getting sent to the Poston internment camp in southern Arizona. They both arrived at Poston in May 1942; George was 24 years old at the time, Janet was 18. George was released to Detroit in October 1943 to work for a florist and just after the war he served in the army in the Aleutians. Janet wasn't released from Poston until more than a month after the war was over, in late September 1945. In December 1945, George and Janet married while George was on furlough from the army.
The collection was acquired directly from George and Janet's last living descendant who is available to consult on the collection with whichever repository acquires it.
Offered by Langdon Manor Books, booth 111.
Native Americans on the Northern Montana Plains
Forsyth, Norman A. [Collection of Over Sixty Original Images Documenting Montana Native Americans During the Early 20th Century]. Butte, Mt.: [ca. 1910]. Sixty-three original photographs, each 3.5 x 5.5 inches, with a few measuring slightly smaller. Photos are removed from an album, adhesive residue on versos. Photographer's contemporary ink credit stamp on blank versos; images hand numbered in print margins and on versos. Minor edge wear, scattered toning; an occasional corner crease or minor soiling. Very good.
An excellent group of nearly sixty-five original images by Norman A. Forsyth, a significant photographer of Montana and Native American subjects in the early 1900s. "Known for his friendship with cowboy painter Charles Russell, Forsyth issued a broad range of fine stereoviews and postcards depicting buffalo, Blackfeet Indians, mining, and Montana towns" -- Mautz. The images present here are noteworthy for being neither stereoviews nor postcards, but rather original silver gelatin prints intended to be purchased from his studio in Butte or ordered by catalog and assembled into albums (and retain manuscript index numbers in margins and some adhesive residue on blank versos attest to this practice). These photographs depict several Native American groups in Montana, including those from the Blackfeet, Cree, and Flathead tribes, and likely others as well. Forsyth photographed in the field across the state, and as a result, while his photos often portray posed subjects, the images retain a naturalistic sensibility. The images here include single and group portraits of subjects sitting, standing, and in profile. They also document numerous activities, including several dances and other community events, the construction of teepee campsites, horseback transit, community meetings, and what appears to be a Little Bighorn re-enactment. Scattered amongst these are several images of Montana towns and landscapes, for which Forsyth was also known. In all, a fine representation of Forsyth's work in an unusual format and a good visual record of Native American life in Montana during the early 20th century.
Offered by McBride Rare Books, booth 401.
For tickets and all further information, please visit the WEBSITE HERE.
Off to a wonderful weekend in LA!