Actualités
Notes from an Archive: The Book Collector and the ILAB Breslauer Prize for Bibliography
On the occasion of the 18th Breslauer Prize for Bibliography, ILAB published a Festschrift in cooperation with The Book Collector to celebrate the achievements of this year's prize winners as well as the work of the prize jury and the field of bibliography to an audience beyond the attendees of the actual ceremony. James Fleming, owner and editor of THE BOOK COLLECTOR looked into the magazine's archive going back to the origins of the prize.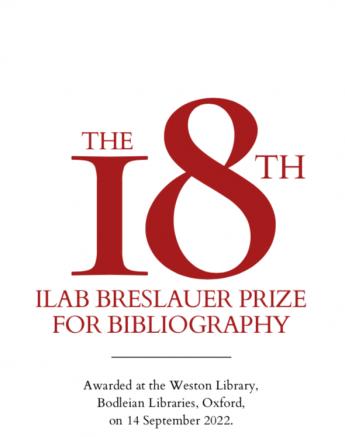 By James Fleming

The Book Collector was founded by Ian Fleming in 1952. From the very first, bibliographies were always going to play a big part in its content for this was, after all, the era in which even a commercial publisher could think it profitable to publish bibliographies. The fact that the Soho Bibliographies (Sassoon, Lucretius, D. H. Lawrence and others) published by Rupert Hart-Davis failed to save the company in no way decreases the esteem in which bibliographies were then held. Reviewing author bibliographies was for many years a staple diet of The Book Collector. It makes perfect sense, therefore, for us to be involved in this year's Breslauer Prize, the foremost international prize for outstanding work in the field of bibliography and book history. Our archive goes back to our beginning and is second to none. We are delighted to have the opportunity to share some of the highlights that touch upon this huge and important field.
To begin at the beginning: in our Spring 2009 issue we announced that the International League of Antiquarian Booksellers had received a donation of no less than US $108,000 from the Breslauer Foundation, which had been
set up under the will of our old friend and occasional contributor, Bernard H. Breslauer. (1) To mark the event the ILAB quadrennial prize for a bibliography published in the preceding four years was renamed the ILAB Breslauer Prize for Bibliography. As we wrote at the time, 'Bibliography expects and gets few rewards other than serving the needs of librarians and booksellers, so the extension of this admirable award is to be welcomed.' It is a fitting tribute to all concerned that in 2014 the ILAB prize should have been awarded to the monumental (692 pp.) bibliography of the writings of Ian Fleming himself that Jon Gilbert had laboured to produce over several years. As Arnoud Gerits, the prize secretary, remarked at the time, the work was 'outstanding proof that bibliographical scholarship is not limited to pre-1900 books and authors'.
Bernard Breslauer had a close link to The Book Collector through our then editor, Nicolas Barker, who for our issue for Winter 1998 (2) assembled the most brilliant names in the world of rare books (3) to describe Breslauer and his achievements.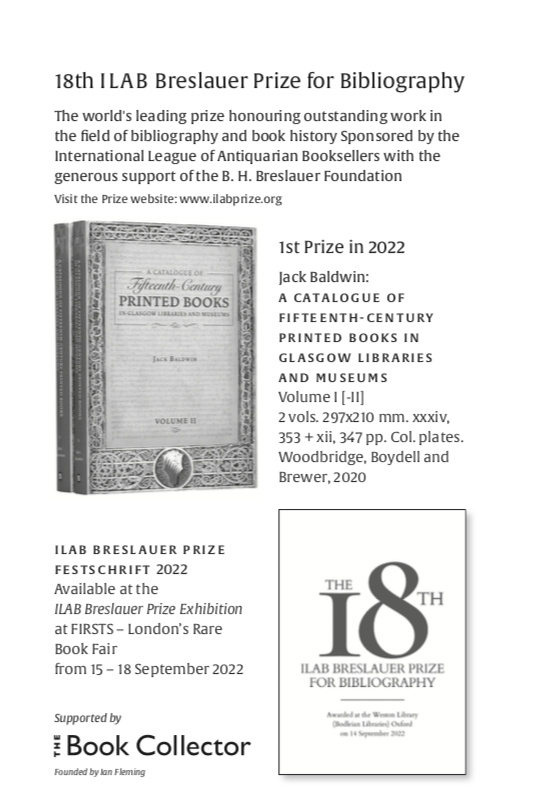 In a very personal – and moving – introduction, Nicolas tells how he met Bernard through his own father ('a tireless supporter of learned refugees from Nazi Germany') and how Bernard did well enough to be able to take a shop at 23, Museum Street, which was where Nicolas's introduction to Bernard took place. For those of us who have often marvelled at Nicolas's polymathy, those few paragraphs are a good place to visit. It is here, too, that we learn something of Bernard's father, Martin, who in 1937 was forced to close his business in Berlin and migrate to London, in the process losing his entire reference library, a loss which is described as emotional as much as material. (4)
If you search for bibliography in The Book Collector's online archive, it is not surprising that there are over 200 results on your screen, the earliest coming from the Book Handbook of 1947. The latest is in our issue for Winter 2019, 'An Essay in Bibliography: Laurie Lee' by Stephen Oliver-Jones, which describes with great skill the various roads that need to be travelled by a collector who wishes to become a bibliographer.
In between comes another bibliography which in the harrowing circumstances of 2022 is worth mentioning as a sign that scholarship knows no boundaries even in the most difficult times. The bibliography we refer to is Bibliografiya Sovetskoy Bibliografii, (Moscow: All-Union Book Chamber 1959, 3 roubles 14 copecks, 510 pp.) reviewed by J. S. G. Simmons in our issue for Spring 1962: The modest, paper-wrappered, original annual bibliography of Soviet bibliographies, which was published in 1941 and garnered the 1939 crop, would have difficulty in recognising its successor of twenty years on. This solid tome is a witness – simultaneously terrifying and heartening – to the immense increase in the output both of Soviet books and articles, and of the bibliographies which alone can enable us to navigate in an almost boundless ocean of print. The volume records in close-set double columns the 1959 harvest of over 8,500 bibliographies... Like most of the bibliographical series published by the All-Union Book Chamber, the work is a model of its kind and once again demonstrates what can be done by a lavishly supported national bibliographic centre with a devoted, well-trained and sizeable staff – a phenomenon which, it must regretfully be admitted, one has come to associate with the Left rather than the Right side of the Iron Curtain.
That we should close this introduction with a reference to a bibliography of bibliographies produced over sixty years ago by the Soviet academic industry is entirely fitting. Their labours shine like a beacon through the gloom of today and are an appropriate tribute to the standards of scholarship that are pursued and made glorious by the Breslauer Foundation.
Footnotes:

(1) He wrote twice for us on Jean Furstenberg (1960–04 and 1982–04), once on Martin Bodmer (1988–01) and an article entitled 'Gibbon's Bookbinder at Lausanne' (1975–01).

(2) The article on Breslauer referred to here was also produced as an undated offprint, presumably issued at the same time the Book Collector issue was printed.
(3) John Ehrman, Roger Stoddard, James Wells, Anthony Hobson, The Earl of Crawford, Colin Franklin, Mirjam Foot, Karl Dachs, Martin Bircher, Pierre Berès and Otto Schäfer.
(4) Martin Breslauer died of shock soon after his flat in Bedford Court Mansions was destroyed by the same bombing raid that centred on his almost neighbour, the British Museum.