Actualités
Meeting up with the booksellers in New York!
As the pandemic is fading, ILAB booksellers are finally able to meet again and share their passion with colleagues and customers. We spoke to some exhibitors at this year's New York International Antiquarian Book Fair.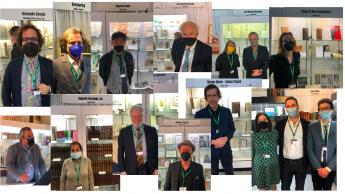 The 2022 New York Book Fair is a truly international event with exhibitors from the United States but also Italy, Germany, France, the Netherlands, Spain, Argentina, Canada, the Czech Republic, Denmark, Austria, Hungary and Japan.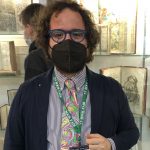 "It makes me very very happy to be here. The clients are very warm and I think they are happy that they can make contact with books again. This is really the main emotion I feel. To have the human contact again and to have contact with materials that we have not seen for two years; only in catalogues or websites which is important but not the same."
Alessandro Borgato, Padova - Italy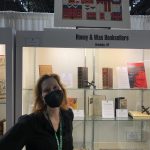 "It's been an incredible joy to be back in the Armoury, to see so many old friends and colleagues and I've been really pleasantly surprised by the activity and the enthusiasm and just the general excitement from the public and from other booksellers and from collectors. It's been a wonderful experience; I'm so happy to be back!"
Heather O'Donnell, Honey& Wax Brooklyn, New York - US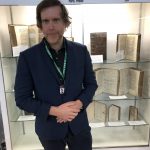 "Je suis ravi de revenir à New York après deux ans de pandémie; on retrouve ses collègues, ses amis, d'énergie, de la vie, on voit de nouveau des livres exceptionnels, et on se réunit entre passionnés des livres." ["I'm thrilled to be back in New York after two years of the pandemic; we're back with colleagues, friends, energy, life, seeing great books again, and getting together with book lovers."]
Nicolas Malais, Cabinet Chaptal, Paris - France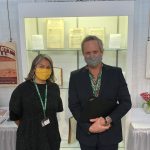 "It's wonderful to be back here and see all of my old friends, to feel the excitement in the fair and there just been a great attendance; it's been one of the best fairs I've actually had in my entire career."
Ben Kinmont, Sebastopol CA - US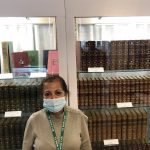 "I'm a New Yorker, so it feels great and I'm so happy to see the crowd we're having and the enthusiasm, meeting our colleagues, buying and selling books; it's a dream come true of course after 2 years of COVID, I am very very happy and I hope all the dealers have a great show in New York because I'm very proud of New York: I'm a dead New Yorker!"
Bibi Mohamed, Imperial Fine Books New York - US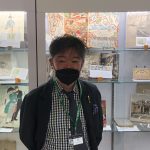 "It's amazing, I feel such a great big reunion. For two years we were absent, even the customers, they were waiting for this fair. I felt that there is a passion to look around for books. I am so happy to be here."
Ryu Sato, Kagerou Bunko, Tokyo - Japan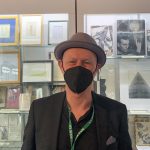 "It feels surprisingly good and exciting. We all were a bit worried how things will develop after such a long pause but I think in general the mood is very cheerful this year!"
Christof Groessl, Abeceda Books, Munich - Germany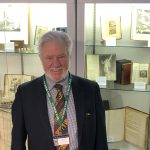 "It is absolutely wonderful to see the gathering of the clan; dealers, collectors, librarians and the general public all coming together with so much delight in each other's company. It is the first fair that I can remember where people were not talking about results - how much did you sell, how much did you buy - but how great it was just to see each other, to be able to give each other hugs, exchange information and restore human contact."
John Windle, San Francisco - US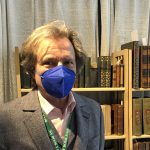 "It is really good to be back here after two years of pandemic and we're happy to meet friends, colleagues and customers that we have not seen in the last two years. Up until now it has been a success. We have had good sales and hope it will continue over the next two days."
Robert Schoisengeier, Antiquariat Burgverlag, Vienna - Austria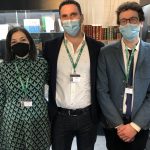 "It is great to be back in New York after two years, catching up with our customers and getting to see the best antiquarian books you'll ever see at a book fair."
James Hallgate, Lucius Books, York - United Kingdom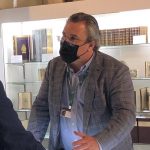 "It is fantastic to be back at the New York book fair, I am very happy to see all the librarians, the private collectors and the institutions coming here, making the efforts to visit the fair and and making the efforts to make the dealers who have been missing out in the last two year to feel right back at home."
Laurens Hesselink, Antiquariaat Forum, 't Goy-Houten - Netherlands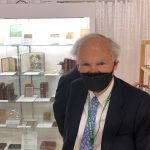 "It is wonderful to be back in New York and it seems from the size of the crowd and the activity that a lot of people have been longing for the return of the book fairs."
Stuart Bennett, Charleston - US
The New York Antiquarian Book Fair still runs until Sunday, 24 April at the New York Park Avenue Armory.
To buy a ticket, attend an event and for more information please visit the WEBSITE